Resize Videos in 2.0!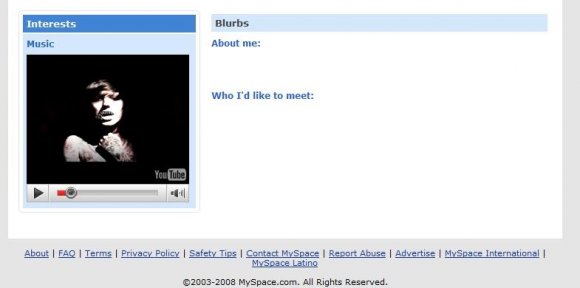 Author's Comments
Look carefully for specific instructions
replace the XXX's with the height and width of your choice (2 places).
replace "EMBED URL HERE" with the video's url (2 places).
make sure you use the
embed url link
and not the
direct url link
.
please see my other
video code
if you have no idea what i'm talking about.
if the video is cut off by the section i.e. "music" just keep lowering the number until it fits.
any questions? just ask!
enjoy!
Script Code
Copy and paste to About Me
Script Comments
Showing latest 10 of 10 comments
dopeee, bmth
thanks for this, been looking for it
it's automatically re-sized in FF (width only, not height). it's NOT, however automatically re-sized in IE. it shows a normal size, and cut off within the section.
doesn't the profile resize images & youtube videos automatically ?
umm.... no it's for 2.0! i no longer do 1.0 coding. i'm sure it works in 1.0 too, but to re-size vids in 1.0 all you have to do is adjust the height and width in the embed code (you don't need this code). that was not working for me in 2.0, the vids would still show at massive size.
i searched the net to re-size vids in 2.0, and all i found was a long tutorial at Myspace BBZ/Katamari Profile Layout Codes, but i thought there had to be an easier way.
this is for 1.0 not 2.0
is love


bmth video
lawlz. big talk from a douche that doesn't even have a profile set up! oh wait i can tell by all the codes you've submitted.... ZERO! that i should really take your opinion to heart! thx!
stupid ass code.. worthless...
Script Details
| | |
| --- | --- |
| Author | ingodwerust |
| Submitted on | Jan 18, 2009 |
| Page views | 10,769 |
| Favorites | 48 |
| Comments | 10 |
| Reviewer | manny-the-dino |
| Approved on | Jan 21, 2009 |