Speech Bubble Blurbs Section (: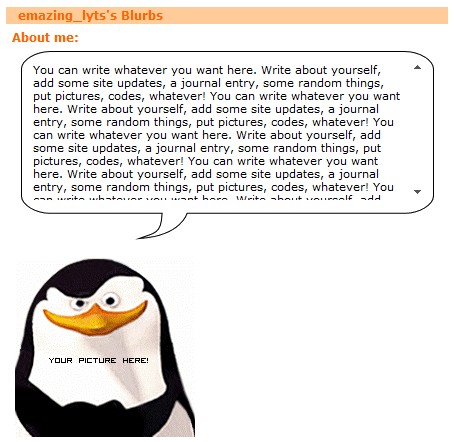 Author's Comments
Look carefully for specific instructions
VISIT
DZYNE.COM!
FOR MORE!
PLEASE READ
:
I created this script to use on my resources site, DZYNE.COM! It's simply a little blurbs section to add to your About Me (or anywhere you want). You can put anything there, a journal, updates, pictures, random stuff, etc.
• The inside of the speech bubble is white, but the background is transparent so it will match your background.
• The scrollbar is white so it matches the speech bubble. You can change the colors, but it won't look as good.
• You can edit the image if you want, but if you edit the size, you will have to adjust the size of both div's as well.
• Write whatever you want where it says "WRITE STUFF HERE"
• You can write as much as you want, it will scroll.
• Upload a picture of yourself to tinypic.com
• Copy and paste the url where it says YOUR IMAGE URL HERE
• It doesn't really matter what size it is, but smaller generally looks better.
• Go to
http://www.myspace.com/emazing_lyts
for a working preview.
*PM me if you need any help.
Script Code
Copy and paste to About Me
Script Comments
Showing latest 10 of 30 comments
The text does not show. The bubble covers it. Cute idea though.
This is cute gotta use it thank you!
yes to the comment below me it does say terms of vio;lation but when your in your about me you have to go in there and remove the codee that has something like an x.myspace blah blah blah somethin like that
i did it on mine :)
term of service violation thats what it say!
If you're going to have a live preview, make sure the profile isn't private. Anyway, I like this so, I'm saving to my favs.
the text wont show up for me can you help??
wow luv it!
teheh thats so adorablee
im going to try it once i start editing my page(:
just a couple questions.

can you do anything outside of the speech bubble
like les say u want ur navigation outside the bubble
oh nvm, i didnt add the pic ha sry :] this works great!!
it says that i cant use it do to terms of violation O_o
View all »
Script Details
| | |
| --- | --- |
| Author | imperfectionistx |
| Submitted on | Aug 26, 2008 |
| Page views | 35,233 |
| Favorites | 283 |
| Comments | 30 |
| Reviewer | schizo |
| Approved on | Aug 26, 2008 |