Sketch the Background of Your Photo.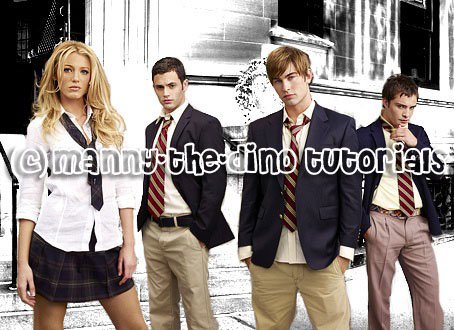 Tutorial
Click on thumbnailed images to enlarge
**NOTE**
I did this tutorial in Photoshop CS3 Extended which is why some of you

may

have problems. However, that

doesn't

mean this tutorial won't work in other versions of Photoshop. Just try it out.
Want to add an artistic touch to your photos? Well you've come to the right place, my love. I will be using the cast of Gossip Girl as my subjects this time. Here's the before: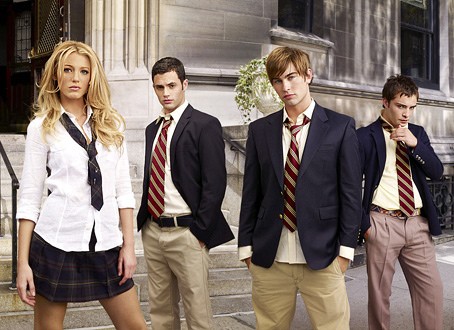 Here's the after:
To sketching!
001.Open up your picture!
002.Duplicate your background layer (ctrl+j).
003.Now go Image>Adjustments>Hue/Saturation.
004.Enter -180 as your Hue & -100 as your Saturation.
005.Now go Image>Adjustments>Levels.
006.Apply the following settings:
INPUT LEVELS:
51/1.00/140
007.Add a mask layer to "Layer 1".
008.Now select your Brush Tool (B).
009.Make sure your fg & bg colors are switched. Click on the arrow to switch them.
010.Just paint over the parts you want to show & you're done! Oh & if you make a mistake, just press "D" & paint over the part you made a mistake over!
:)
If you got lost or have any questions, comment the tutotial & I'll get back to you as soon as I can. :D
Tutorial Comments
Showing latest 7 of 7 comments
wow! currently doin' this. :)
Again.. using PS7, this is easy to follow. Thanks!!
you're awesome girl♥
thanx, this was the first thing that i have been able to do on photoshop!!!
thats easy... thank you love.
oh my gosh i love you.
soo easy.!
thanks.
Tutorial Details
| | |
| --- | --- |
| Author | manny-the-dino |
| Submitted on | Jan 17, 2008 |
| Page views | 25,484 |
| Favorites | 183 |
| Comments | 7 |
| Reviewer | libertie |
| Approved on | Jan 19, 2008 |
Tutorial Tags