Add a Tear in the Middle of a Photo.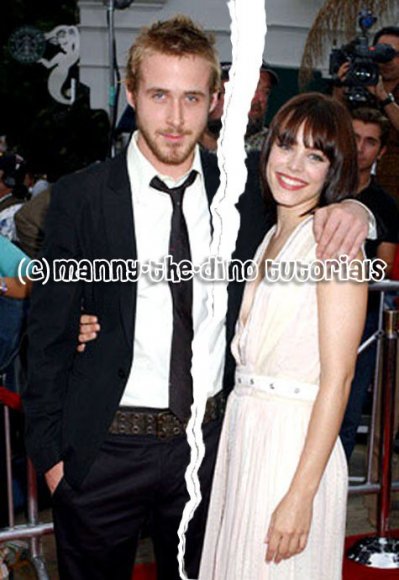 Tutorial
Click on thumbnailed images to enlarge
**NOTE**
I did this tutorial in Photoshop CS3 Extended which is why some of you

may

have problems. However, that

does't

mean this tutorial won't work in other versions of Photoshop. Just try it out.
Want to learn how to make one of those tore up photos that appear on magazines when a couple breaks up? Well now you can with my tut. I will be using the oh so cute ex-couple that was Ryan Gosling & Rachel McAdams. Here's the before: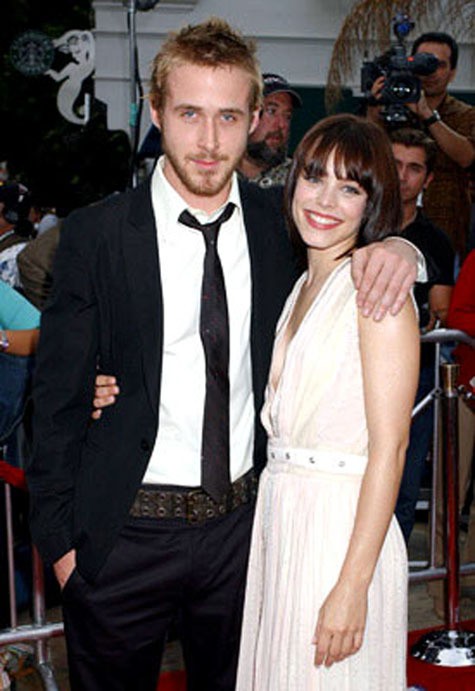 Here's the after:
Let's break them up!
001.First, open up your pictures.
002.Next, select your Polygonal Lass Tool (L).
003.Make a selection in-between the couple.
004.Now press "backspace". Your picture should look like so:
005.Now go Select>Modify>Expand.
006.Enter 6 as your pixels when the pop-up appears.
007.After that, go Filter>Distort>Ripple.
008.Enter 100% as your amount & select Medium as your size.
009.And you're done!
If you got lost or have any questions, comment the tutorial & I'll get back to you as soon as I can. :D
Tutorial Comments
Showing latest 8 of 8 comments
this effect is really awesome!

you can also add drop shadow to make it look more awesome ;D
gosh ryan looks adorable.
great tut!!
Wow this was the first advance one I attempted to do and I did it perfectly tanx
i thought you mean TEAR like crying haha
omg this is sooo cool!!! tried it love it!!! thanks!!
ooh btw i have PSE6 if anyone was wondering if this would work with this version...
very interesting tutorial...i'll have to try this...
I love the way you write tutorials. =)
awesomeee :]
i thought it meant like a tear drop in the middle of a pic.
i was like what?
than i was liek OOOOH niceee
Tutorial Details
| | |
| --- | --- |
| Author | manny-the-dino |
| Submitted on | Nov 28, 2007 |
| Page views | 22,683 |
| Favorites | 131 |
| Comments | 8 |
| Reviewer | IVIike |
| Approved on | Nov 28, 2007 |