How to Create a Vintage-Looking Banner
Tutorial
Click on thumbnailed images to enlarge
1. Get an image you like. I'll be using this Death Note picture:

2. Open up the image in Photoshop. [I use Photoshop elements to make my graphics so, I don't know if Elements have the same kind of stuff as the other kinds.]
3. Duplicate the background/image and go to
Filter >> Blur >> Gaussian Blur
and set the radius to
3.0
4. Flatten the image. [Layer >> Flatten Image] Then, duplicate the background/image again and this time, go to
Filter >> Sharpen >> Sharpen
. And flatten the image again.
5. Create a new layer and fill the layer [with the paint bucket tool] with the color
#496388
. Set the layer to
exclusion
at
80%
.
6. Create another new layer and fill it with the color
#E0D285
. Set the layer to
darken
at
80%
.
7. Create ANOTHER new layer and fill it with the color
#C889C4
. Set the layer to
saturation
at
60%
.
8. Then, duplicate your base/background and place it at the very top. Set it to soft light at
40%
.
9. Create a new layer and set your color to
#FFFFFF
. Then, take the brush tool at the very top of screen, there should be an image of how thick the brush is ... or whatever. Click on it and scroll down til you see this: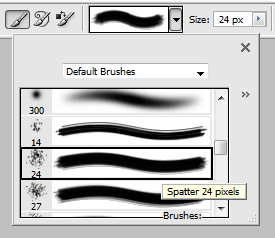 Click on the 24x brush.
10. Take your brush and start scribbling a white [don't make it too big or too small] space at the bottom of your image.
11. Now, click on the
text tool
. For the banner I'm making, I used the font
Georgia
. You can select whatever font you like and choose whatever size you want it to be. Now, click anywhere on the white space and start typing your text.
12. And now, you're basically done! You can add more if you want your banner to be a bit more creative but that's up to you. Oh by the way, when you're done, flatten your image and remember to save!
Here's what mine looks like now:

[Banner will be submitted to this site, in case you didn't know : P]
Tutorial Comments
Showing latest 10 of 11 comments
Thankyou!!
ah-mazing (:
thanks love.

x
:D!! thanks so much.

death note rocks too, btw.
The brushes I used in this tutorial are default brushes. For custom brushes, you can search some up on sites, such as Celestial-Star.net : )
where did you
get the brushes ?
blackbeauty1: to input the number for the color just go Layer>New Fill Layer>Solid Color, press ok, copy the code from the tutorial & paste it where it says "#" on the bottom. & there you go! :)
how do you input that number for the color?
Wow! I will surely use this later on. ;D
amazingggggggggggggggggggggggg gggg
love death note!
View all »
Tutorial Details
| | |
| --- | --- |
| Author | cielxx |
| Submitted on | Nov 27, 2007 |
| Page views | 23,525 |
| Favorites | 90 |
| Comments | 11 |
| Reviewer | SinfullySweet |
| Approved on | Nov 28, 2007 |