Learn How To Make A Dotted Picture
Tutorial
Click on thumbnailed images to enlarge
**NOTE**
I did this tutorial in Photoshop CS3 Extended which is why some of you

may

have problems. However, that

does't

mean this tutorial won't work in other versions of Photoshop. Just try it out.
For my retro 1970s tutorial, I will use the beautiful Kat Von D from the hit TV show "LA Ink."
[Catch "LA Ink" on TLC every Tuesday at 10pm]
Haha, sorry. I thought I would help promote her show! :D
Okay so anyways, this is the before: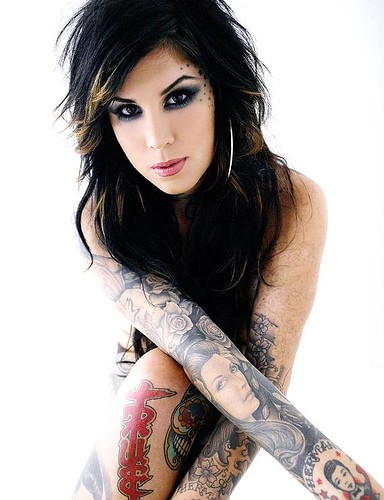 & this is the after:
Let's get started...
001.First, open up your image in Photoshop.
002.Next, do a ctrl+j to copy the background layer & then delete the locked layer (the background layer).
003.Click on your colors palette & select any color you'd like & click ok. I choose a sort of magenta color. If you'd like to use it, go ahead. The number is "f322bb"
004.Now do a Filters>Sketches>Torn Edges.
005.Adjust your settings until your image looks something like mine. Then click ok. If you want to use my settings they are...
Image Balance: 27
Smoothness: 15
Contrast: 17
006.Now go Filters>Pixelate>Mosaic.
007.This part depends on your image. But I chose 4.
008.Add a new layer above this one.
009.Now create a new documnet (ctrl+n) according to the size you entered for your pixels. Since I entered 4, I need to make my new document 4px x 4px. Then click Ok.
010.For your new document, do a ctrl+j & discard the "Background Layer" (the locked layer).
011.For this part, zoom in all the way & fill your new document with the same color you chose earlier using the Paint Bucket Tool & cut a circle out of it using the Elliptical Marquee Tool. To cut out the circle, just press "delete."
012.Do a ctrl+d to deselect the pattern. Now go Edit>Define Pattern & name your pattern. You can name it whatever you'd like because ultimately, it doesn't matter.
013.Now go to your picture & go Edit>Fill & choose your circle & press Ok.
014.Now you have your final product. It should look something like my final product...
If you got lost or have any questions, comment the tutotial & I'll get back to you as soon as I can. :D
Tutorial Comments
Showing latest 10 of 12 comments
-smiles- Awhe, this was the very first tutorial i ever tried.
Memories(:
Hehe.
ILO VEYOU.
mine didnt come out dots. it just filled the whole picture pink. and what is the elliptical marquee tool? please help.
The only problem I had was that it came out as a cross pattern...not dots. But it still looks like yours so I guess it's ok. Very nice job otherwise!
so it doesn't work on photoshop 7.0?
:( i wanna do this so bad!
it's so cool :[
not all of us have photoshop:(
it's cool and i tried it but the dots don't come out
hmm...mine didn't come out with the dots. it just pasted the whole pink and white circle thing on top of the whole picture. help please? i think this is really cool and want to be able to do it.

:)
I cant seem to Define the Pattern Either...:(
this seems so cool but it wnt let me define the pattern...help??
OKay,I tried it but im not so sue of my out come,how can I get the dots to stand out?:http://i190.photobucket.c om/albums/z263/TslXLayouts/ran dom.png
View all »