Tutorial
Click on thumbnailed images to enlarge
photoshop actions
...
say what?!?
photoshop actions make picture effects such as vintage, coloring, and lighting effects easier.. you know when your browsing threw createblog and you see this awesome vintage photo effect and it take like 20 mins to complete all the steps.. then you can't remember it all after? while recording an action, eventhing that you do, it records.. then after its finished photoshop saves all that you do.. that way you only have to do it
once
!
sounds awesome doesn't it..
now.. how to find, load, use, save, and create actions!!
finding actions:
with photoshop open go to window>actions..
a task box with the tab actions will be presented..
it should look like this..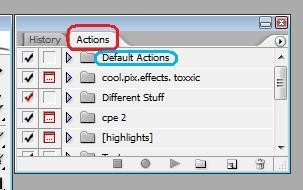 but your actions [if you have never loaded any] will only have the "default actions"
loading actions:
click the arrow at the top of the action panel.. then click load actions..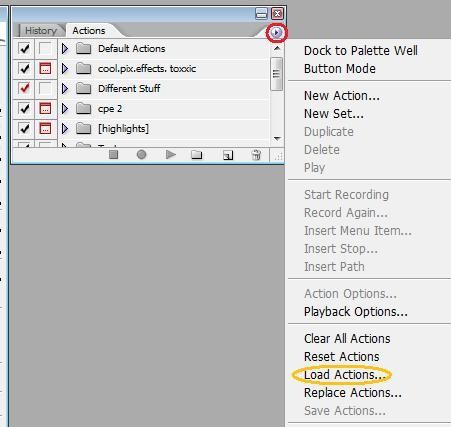 then the actions will be loaded...
---> but of course to load actions you must first have actions.. i get mine from deviantart.com you can either search deviantart or go to
http://www.toxxicgrafixx.deviantart.com
that is my personal account..
just click download and save them to you computer.. much like brushes..
using actions:
after you have load a set of actions.. click the arrow beside of the folder of actions you loaded the folder will open with a various amount of actions.. click on action
such as this..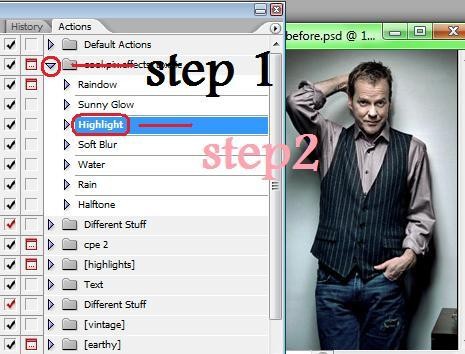 also notice the photo.. in the next on it will be diffent..
now.. to but the action into play.. the ONLY thing you have to do to use that actions is click play!/b]
thats it!..
heres what it looks like!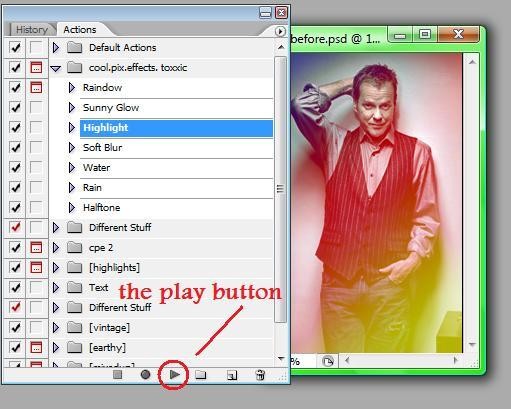 all those steps with ONE click.. awesome uhh.!

[b]saving actions:
to save actions.. you do the same thing as loading them except you click "Save Actions" instead of loading them..
making actions:
this is the difficult part.. first what you want to do is make a new set.. click the folder at the main bottom of the actions panel..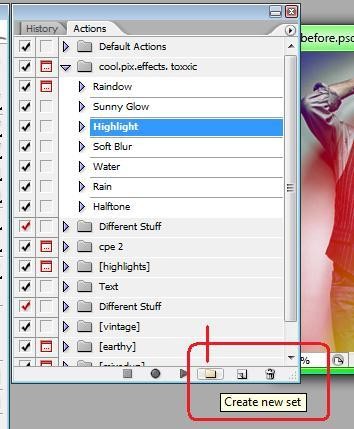 call the set what ever you want..
im calling mine createblog..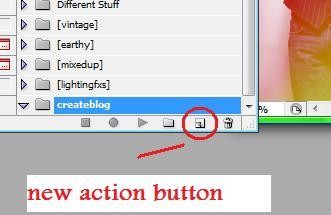 NOTE: it is a very good idea that you have in mind what type of action your making.. for your first one i would do something that you are really good at or something common.. for example if you are good at making vintage coloring.. make one of those..
now click the new action button...
call the action ..test..
so that you can delete it later if you don't like it..
... remember as soon as you click new action it will start recording everything you do...
now do all the steps you normally do with whatever your good at in photoshop..
then click the STOP button when your completey finished with the all the steps..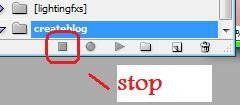 && thats it i hope you've learned something new and useful!
Tutorial Comments
Showing latest 7 of 7 comments
how do you save i?
waitt, how did you make new actions again?
i never knew this existed either..
wicked.
i went and downloaded some of your stuff.
thanks!
do you know if there is any way yo load action on elements?
because my cs3 tutorial is almost done ]= and im hooked on actions now
wow, I never knew about this! Thanks.
yeah.. i actually made that one.
its on my deviantart account..

http://toxxicgraf ixx.deviantart.com/art/cool-pi x-effect-97702206

here is the link the only thing that you have to do it click download!
i love the action used on the photo showed
where did you get it from?
or could you give it out for download?
Tutorial Details
| | |
| --- | --- |
| Author | ipodtoxxic |
| Submitted on | Oct 1, 2008 |
| Page views | 15,555 |
| Favorites | 54 |
| Comments | 7 |
| Reviewer | manny-the-dino |
| Approved on | Oct 1, 2008 |