Tutorial
Click on thumbnailed images to enlarge
I use Photoshop CS3 Extended, so some of you may have a few problems.
o1. I'm gonna take a picture from
stock.xchng
You can use your own pic, or this one, but make sure it's a close up.
**extra**It's easier to use a pic where you can see the eye colors, but it may or may not work if the eye is dark.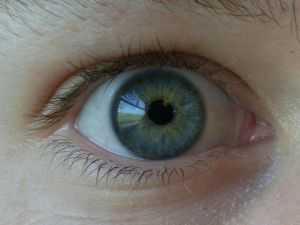 This is your original image. If I were you, I'd rename it 'original'. Select the layer it's on, and press ctrl+j to duplicate the image. (This isn't necessary, but I like to do this in case I mess up. It also let's me see the before and after.)
Now, press o and make sure you have your dodge tool selected.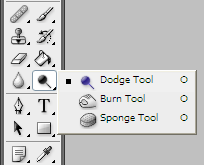 Put it to a 30-36 diameter, unless you're using a different image. Make sure your exposure is between 20 and 30%,

and now you want to just use it on the colored part of the eye (iris), avoiding the black, middle part. (pupil) [Sometimes it helps to zoom in on this] Just circle around the pupil a little bit and you should have an eye that looks somewhat dilated and similar to this.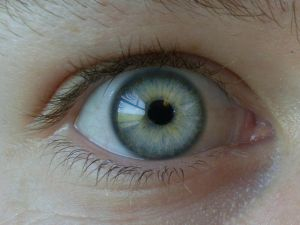 o2. Now, make sure you have the layer you just worked on selected. (it should be original 1 copy OR layer 1 copy, depending on if you followed the first part of the tut) Press ctrl+j to duplicate, and then press ctrl+u.
A menu like this should pop up: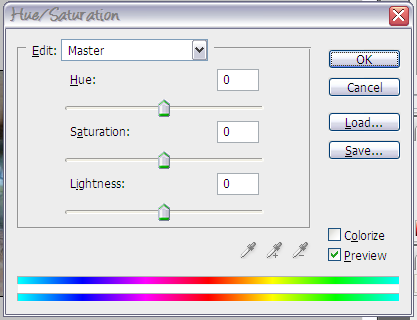 **extra** On the next step, you can change the settings and things a bit so it looks different, but if you're trying this for the first time, try to stick to the tutorial.
Now make sure your settings match mine. (or have something similar, you can change the color or saturation to whatever you want)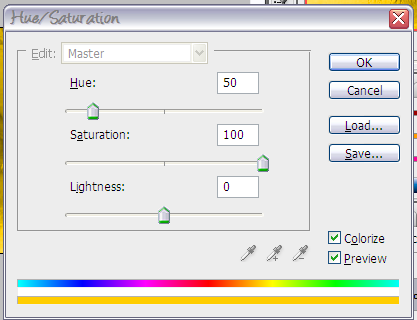 Once you're done, click OK and the whole image should be whatever color you chose. Change the setting to overlay.
Now your whole picture should be whatever color you chose. What you need to do is press E or select the eraser tool, and erase everything but the iris and pupil.
[I used a size 83px brush with an 80% hardness]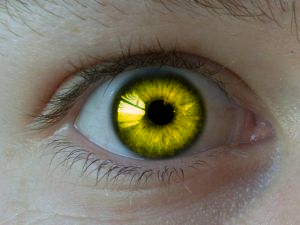 ***YOU CAN STOP HERE, OR KEEP GOING, BUT IT MAY GET CONFUSING FOR REAL BEGINNERS***
To make things cooler looking [I hate yellow] I duplicated original copy 2. Then I pressed ctrl+u and, after pressing colorize, put the following settings:
Hue 0
Saturation 100
Lightness -10
Then, I took a 73px brush, with 34% hardness and erased the center of it, so it looks like: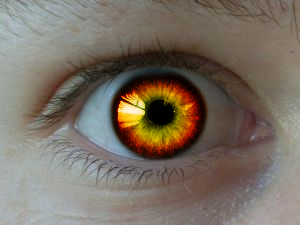 To make cooler effects, I like to add textures. Let's add a fan texture from
grunge textures
shall we?
o4. First, you want to select the eye color layers. [If you followed the tutorial they should be original copy 2 and 3] and press ctrl+e to merge them. Sometimes the layer effect will come off, so you have to put them on overlay again. Your palette should look something like: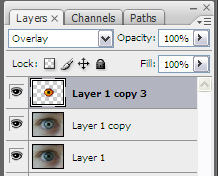 Now you can take the fan texture (or whatever you're using) and paste (ctrl+v) it on your image so it's the TOP LAYER. I set it to linear light 100% opacity.
Make sure the center of your fan is the center of your eye, as well. Now, if you want a cool looking fan, you can save the image, but if you want a cool looking eye, you need to hold down alt and put the cursor between the top two layers so it looks like two circles and an arrow, and then click. (SRY, I suck at explaining!) But now your layers should look like: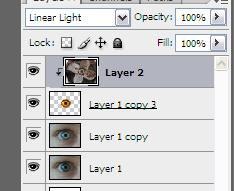 And your eye should look like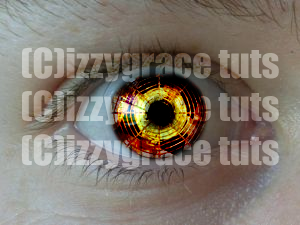 If you want the skin to look weird, that's another tutorial :) Enjoy your eye effects. Play around a bit and you can get a wide assortment of things, and feel free to ask questions!
OTHER FREAKY PHOTOSHOP EYES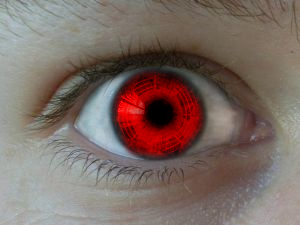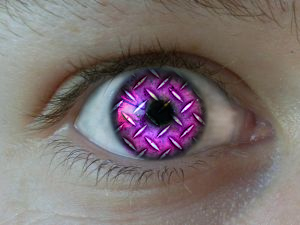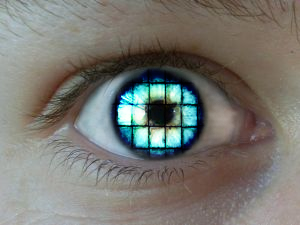 Tutorial Comments
Showing latest 10 of 20 comments
Wowzer!
thanks this tutorial is awesome!
I got everything up to the point of holding down ALT and clicking between the two layers. You kinda lost me there. =\
do u knoe how to do the shimmering in the eye?
awesome
whoa, love the fire, spiderweb, and the last blue one. sweet.
that's dope..
i used this awhile
ago when i first got adobe
xD
Y0UR BRUSH L0L =)
LYLY5263 =)

THE HARDNESS IS RiTE UNDER THE MASTER DiAMETER WHEN Y0U CH00SE
where caan you find the hardness?


View all »
Tutorial Details
| | |
| --- | --- |
| Author | IzzyGrace |
| Submitted on | Jun 15, 2008 |
| Page views | 33,154 |
| Favorites | 229 |
| Comments | 20 |
| Reviewer | manny-the-dino |
| Approved on | Jun 16, 2008 |