Drop Down Commentor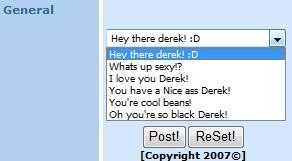 Author's Comments
Look carefully for specific instructions
I've seen quite a few people go to my profile and copy and paste my html. Don't do it, period.
Leave credit, you did NOT make this.
Here are sites that did NOT leave the copyright.
http://www.pimpwebpage.com/dropdowncomment.php
http://www.megadivs.com/profilecodes.php
if you find more, let me know, or if you see a person without credit.
***Make sure the friend ID is correct!
You can take out or put in as many options as you like, and you may apply any css to this as well.
You can also put this anywhere on your profile
Just edit the XXXXXX and put in your correct friendID
and edit the text that says "Replace with your comment text!"
as well as the button texts
Btw: I havent seen anyone make this before me, so Imma copyright it©2007 :D
myspace.com/gbd951
'member to give some credit
Script Code
Copy and paste to About Me
Script Comments
Showing latest 10 of 25 comments
this code is awsome but with me it dosnt show the post buttom
ummm. i put the friend id where it said to put it. so i tried it & it said "invalid friend id"

help!


pretty cool!
thanks!
Everything shows up on mine but the post button has a huge black box around it.. Is there any way to fix it?
so sick!
awesome job dude.
works in firefox.

using IE7
it only shows the post button...
when you click the empty space where the box is SUPPOSED to be though, the list still drops down. How do I fix this? It looks all ghetto....
This thing is awesome. You can even add more that just the three options. And I edited the buttons to say [[Puh-Ost]]. Because I'm weird like that. But overall, I totally loved it!
o yah, and wen i click the post it button, it goes to the comfirm comment
and the first option is entered.
i put everything in just the way u said to.
but the only thing it shows is the post it button. y? :[
myspace.com/shugga_rush
View all »
Script Details
| | |
| --- | --- |
| Author | gbd951 |
| Submitted on | Oct 28, 2007 |
| Page views | 52,149 |
| Favorites | 185 |
| Comments | 25 |
| Reviewer | themarkster |
| Approved on | Oct 28, 2007 |