Replace Your Friend Count Into An Image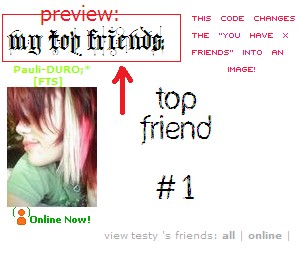 Author's Comments
Look carefully for specific instructions
This script works GREAT in FIREFOX and INTERNET EXPLORER!! haha. i finally had a chance to check. :D

this script basically changes your friend count into an image. it's as simple as that.
Script Code
Copy and paste to I'd Like to Meet
Script Comments
Showing latest 7 of 7 comments
nice
thats pretty much where its supposed to be

if were thinking the same thing
it doesn't put the image in the friend's box, it puts in the bottom the "who i'd like to meet" box, well at least on IE, is there anything i can do to fix this? PLEASE & THANK YOU =]
cN THIS WORK 4 TEXT AS WELL?
Ha! May be simple, but I love it!
Thank You For Sharing
hm im not sure...we might just have to try and see now wont we? :)ill mess around with th e coding, and i will check if it works on firefox, since i have bothe IE and firefox on my comp...
this is cool, would it also work if i changed things around and used it for comments?
Script Details
| | |
| --- | --- |
| Author | bubblebuddy88 |
| Submitted on | Oct 11, 2007 |
| Page views | 35,805 |
| Favorites | 88 |
| Comments | 7 |
| Reviewer | IVIike |
| Approved on | Oct 11, 2007 |