Replace Name Text With Image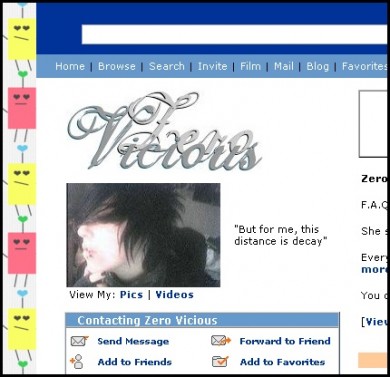 Author's Comments
Look carefully for specific instructions
I saw the other script, done by anime-essence, that had the same idea. But the difference with this one is that the text is removed completely, as opposed to being made really tiny but still present, like as was done in the other script.

Replace URLOFDESIREDIMAGE with..the URL of your desired image. And replace WIDTHOFIMAGE with the width of your image, and HEIGHTOFIMAGE with the height of your image. Pretty simple.

**EDIT:
Well kids, looks like this only works on Firefox. Sorry, IE users. Though I strongly suggest you all switch to Firefox anyway, it's more secure and actually lives up to web standards. Find out more about why IE is crap in comparison here.
:]
Script Code
Copy and paste to About Me
Script Comments
Showing latest 10 of 56 comments
Does it work with Google Chrome? :]
where do you go to get a name image like that?
this shit is AWSOME!!!!
actually it does work
weell for me anyhow;
only because imma genius haha x3
Tanks dudie =D
this is Kickass!
i love it
yayaya.
works for me!
probably why.
I fixed mine by going into my layout's code and editing the nametext from there, making it the same color as my background [white, in my case] and the size 0px. Looks great now :] Thanks!
And yes, I use Mozilla Firefox.
View all »
Script Details
| | |
| --- | --- |
| Author | ZeroVicious |
| Submitted on | Aug 29, 2007 |
| Page views | 97,218 |
| Favorites | 339 |
| Comments | 56 |
| Reviewer | alovesopure |
| Approved on | Aug 30, 2007 |