Wrap Text Around Image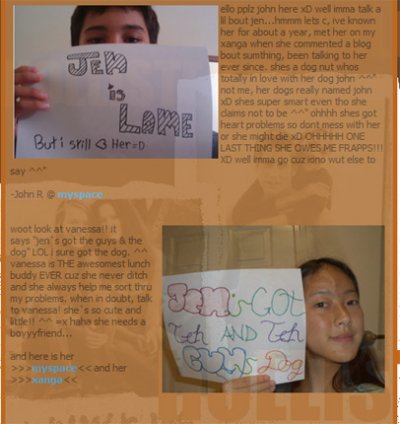 Author's Comments
Look carefully for specific instructions
text that wraps around ur image, such as...

PICTURE text text text text text text text
text text text text text text text text text
text text text text text text text text text


-hspace & vspace is the distance between your image and text
-you can align "right"
-change UR URL HERE to a valid image url
Script Code
Copy and paste to About Me
Script Comments
Showing latest 10 of 69 comments
You can also do it in Microsoft Word and then save your document as htm.

http://www.mswordhelp. com/2010/05/word-2002/wrap-tex t-around-image/
maybe more up-todate codes would modify to vspace='value' [for vertical space away from imagetotext] hspace='value' [for horizontal space from imagetotext] and align='rightORleftORcenter' "This code does work yet with XHTML many quotations have been replaced by ' symbol" (my guesse3d is for faster rendering) ... I visit frequently :*() :-P
Nevermind, got it.
Thanks(:
Say you want to end the wrap and center an image under this. Do you type like, after your wrapped text?
omgosh it works!
finally nice job(:
yesss thank you! i've been lookin for this for awhile! :D
This is awesome ! ! But do you have a way to text wrap around a video ? ?
Namii
this is an awesome code!
woo perfect =]
you don't need the hspace="3" vspace="3" ... just put align "left" or align="right" after the URL HERE" >.
View all »
Script Details
Script Tags