Move/Hide Music Player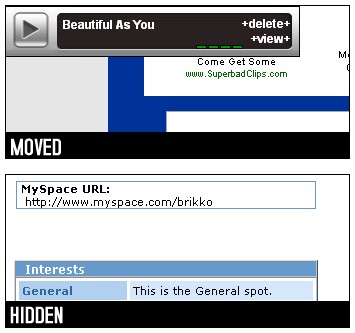 Author's Comments
Look carefully for specific instructions
This efficient, simplified script moves or hides your music player. It modifies only the MySpace music player, and not any of the YouTube clips or other Flash movies you have on your profile.

Note: You may change the 'top' and 'left' properties (which are both currently 0px) however you like. To hide the player instead, set both of them to about -500px.
Script Code
Copy and paste to About Me
Script Comments
Showing latest 10 of 27 comments
Oops- links didn't show up.


http://i27.tinypic.com/2 ujjszb.jpg
what it looks like in FF.

http://i25.tinypic.com/ 2q023hw.jpg
what it looks like in IE.
It works... but it works two different ways in FF and IE. This is what it looks like in FF, while this is what it looks like in IE.
thanks!works perfectly......
hides the music. no big awkward space left behind and my other flash stuff isn't it all screwy. Well Done Sir!! :D
This works, but the positions are different on mozilla from internet explorer/safari etc. so it looks right on some browsers..is there a way to make it universal? thanks!
This works perfectly for me when set to
top: -47px; left: -135px;
Thank you so much!
I am so very grateful! =D
nice worked!
works great for both internet explorer and mozilla firefox with the div layout i have.
Aww. I guess Myspace is just becoming more retarded. :[
I tried it out, but I also added some CSS to resize it, it also resized my YouTube videos.
View all »
Script Details