Hide the Myspace Music player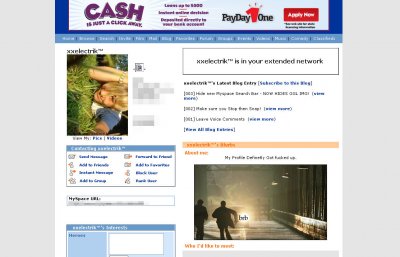 Author's Comments
Look carefully for specific instructions
Paste Anywhere. Works with All Browsers. The good thing about this script is, for one it works the other one no longer works. Two It does not hide MOST of your other embeded objects, it does hide Myspace Movies, Snapvine, but not rockyous, and other picture shows.

feel free to add me!
http://www.myspace.com/xxelectrik
Script Code
Copy and paste to About Me
Script Comments
Showing latest 10 of 37 comments
WORKS!
Gracias. :]
USE INTERNET EXPLORER PEOPLE!
WHY WOULD YOU USE FIREFOX ANYWAY?
FIREFOX IS NOT AS GOOD AS INTERNET EXPLROER.
MOST CODES WORK WITH INTERNET EXPLORER WHILE MOST
CODES DONT WORK WITH MOZILLA FIREFOX...
thanks it worked =] awesomeness! love you for doing this =DD
didnt workk. i think though its bc i have a different kinda of layout than the normal ones...
yeah it's hidden alright. but i'm not hearing my song! =(
iT WORKS
BUT iT MESSES WiT
MAH OTHER CODES
Yeah, it doesnt work on Mozilla.
That's weird...:[
Any Ideas by chance?
wicked :)
THANK YOOH SOO MUcH IT REAllY WOrKZ
Why doesn't it work with mozilla??
View all »
Script Details
| | |
| --- | --- |
| Author | xxelectrik |
| Submitted on | Jan 16, 2007 |
| Page views | 534,470 |
| Favorites | 245 |
| Comments | 37 |