Navigation system.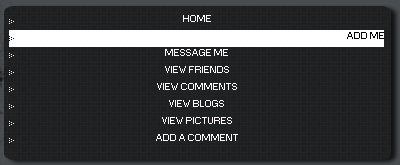 Author's Comments
Look carefully for specific instructions
This script can help anyone trying to create a stylish navigation system without having boring links. Note* Adjust the properties in the following script to suit your liking and or to fit into a div box,also remember you do not have to use all of this script,you can remove anything you do not want or add extra,and the last thing,this script does fully affect the links,just adjust whatever in the link properties to suit your liking.Note* If you do not want the links to be organized down,replace display:block with display:inline. THERE IS AN ENDLESS AMOUNT OF CSS YOU CAN ADD TO INCREASE THE QUALITY OF YOUR NAVIGATION SYSTEM, THIS IS MAINLY JUST A "HEAD-START" SO YOU WON'T HAVE TROUBLE WITH FINDING OR CREATING THIS TYPE OF CSS.
Script Code
Copy and paste to About Me
Script Code
Copy and paste to I'd Like to Meet
Script Comments
Showing latest 10 of 19 comments
This is awesome.
Anyone who can't get it to work: You have to put the links in yourself, idiots.
midgetsmokes420 < codes and everything were erased? then that was you not the codes.
dude your fuckin code deleted my whole myspace thanks
Yo ii R3ALLY N33D H3LP LiiK3 A.S.A.P
I cant understan can you help me?

www.myspace.com/zero_de ad
Could this be changed to replace the contact box?
can you do it for me
message me
www.myspace.com/hothuy_anh
hey, i cant get it to work.

www.myspace.com/jadea u

message me and help please?

xx
this doesnt even work
Thanks!
View all »
Script Details
| | |
| --- | --- |
| Author | anime-essence |
| Submitted on | Aug 10, 2006 |
| Page views | 136,031 |
| Favorites | 186 |
| Comments | 19 |
Script Tags