Friends and Comments on the Left Side!! (Profile 1.0)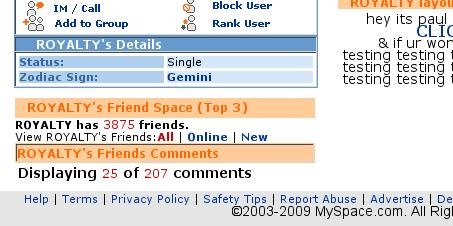 Author's Comments
Look carefully for specific instructions
please do not modify the code... it will be too wide if you allow the top friends and comments to show

NOTE: however much you write in the About Me, Who I'd Like to Meet, Interests, and Details sections will affect this code... if you write too much in the About Me and Who I'd Like To Meet sections, the friends & comments will shift down more. if you have a lot in the Interests or Details section it will automatically shift down the Friends & Comments.

i know people have been asking about this for a very long time, so enjoy!
Script Code
Copy and paste to About Me
Script Code
Copy and paste to I'd Like to Meet
Script Comments
Showing latest 5 of 5 comments
i really like this code. i just want it to show my add comment link.... is there a way to do this???? help!
this is sweet :D but it would be nice if myspace could actually let you change your profile back to 1.0
I tried everything, can someone help? :(
this is cool :)!!!!!!
however, I can't get it to look as good as your preview
it's a good code, but it looks horrible..jeje. can you fix it? please!
it's a good idea.
but the code itself is sloppy and on a normal layout it also looks sloppy.

Script Tags