Info in your Interests (: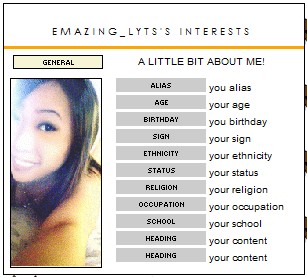 Author's Comments
Look carefully for specific instructions
VISIT
DZYNE.COM!
FOR MORE!
PLEASE READ
:
I made this to use on my music myspace (go
here
for a working preview), but you can use it for personals too. It's more for people who don't want to write all this small info in their actual About Me section. Instead, you can neatly add it into your interests! It kind of replaces your details, but you can add your own titles (:
• It is in combination with
this script
by KarlaPerfection that allows you to put an image into your Interests heading.
• But you can use a picture of yourself (or whatever you want). I made the width 90 so it matches the width of my headings.
• You don't have to use my Interest headings, you can leave them as your own, just delete the part in my code that starts with .lightbluetext8, but then your picture may not be the same width-- Then you'll have to adjust your widths or the picture width as necessary.
• If you want to use my headings, you can edit the style of the headings: edit the attributes in ".lightbluetext8"
• You can edit the style of the secondary headings: edit the attributes in "s" ---> I'm assuming people don't really use "strikethrough" too much, but if you do, you can change "s" to "b" or "u" or something you don't use.
• You can change, add, or delete headings as you feel necessary.
• Make sure to put the SECOND CODE in your GENERAL section, NOT Who I'd Like to Meet!
*PM me if you need help.
Script Code
Copy and paste to About Me
Script Code
Copy and paste to I'd Like to Meet
Script Comments
Showing latest 10 of 16 comments
Your page is still private, girl. IT's been 2 yrs.
um, lol where it go? just look at my profile.. i cant get it to wrap around the photo ):
Help!!



is what you kno of me, but there's a side of me.. alot of you dont kno && will not kno. Only a few kno who i really am && i'd be jealous if i wasn't that few, ha. I live with idc what you think if me attitude, i'll be me but my purpose of living is well..

Can't get the text to wrap around the photo!!

Sorry if i did alil tweek 'n to the code, but can someone please help!!

http://www.myspace.c om/blazinnonstop420
I can never get the color right grrr.
Ahh. Sorry it didn't post.

For the first bgcolor in the General Section, type "b1d0f0" as the color.
For the second, type "d5e8fb" & it won't be blue.


If you don't want it to be blue, then change the part that goes in the "General" Section to this:






The difference is in the bgcolor, if you'd rather just change that.
cudent see the "working preview" ur page is kind a private. but i added u anyway
This is really cute and organized.
y is it blue?
Because everytime i find a code, it hides my pic also!
View all »
Script Details
| | |
| --- | --- |
| Author | imperfectionistx |
| Submitted on | Oct 28, 2008 |
| Page views | 31,285 |
| Favorites | 224 |
| Comments | 16 |
| Reviewer | schizo |
| Approved on | Oct 28, 2008 |
Script Tags