[Update: 7 feb] a cooler way to display videos on your page!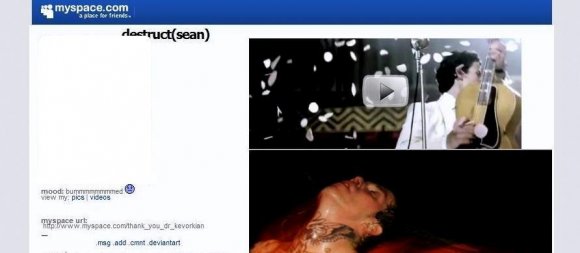 Author's Comments
Look carefully for specific instructions
[update]
well now it seems to only work in IE (it's mis-aligned in FF) i guess myspace did an updated w/ embedded players... w/e
i'm too lazy to try fix it, so i invite anyone to pwn the code and see if they can make it cross browser compatible
replace VIDEO URL HERE (2 places) to any video URL you want! (doesn't have to be youtube)
use the
embed url
&
NOT
the
direct link url
place it anywhere you what it to show up on your page.
works both in FF & IE.
does not work in 2.0
Script Code
Copy and paste to About Me
Script Comments
Showing latest 10 of 27 comments
Is there a way to re position the video?
I'm still learning HTML coding, I pretty much have it locked down for basic layouts and divs, but not with positioning videos.
Okay, this code DOES work; I've done it before. However, I am currently using the code and it shows up differently in FF than in IE. It shows the bottom youtube bar thing in FF and it looks better in IE. Just a thought for the day.
Nope does'nt work. oh well
Re:anneeee
msg me the url & i'll prep the code for you.

that goes for anybody else that is having discrepancies w/this
it won't automatically play for me and I put that code. :/
the same thing is happening to the player (myspace & mixpod.com) on my page, it still plays when i hit pause. i think it's a glitch with embedded players on myspace's side. just in case i will check the code.
it plays twice on my page, like it will start and during the middle of the song it will restart again and you can hear it in the background??
it does work, read the instructions. use the embed url not the direct link url.
Didn't work for me either.
not workinq for mee =[
View all »
Script Details
| | |
| --- | --- |
| Author | ingodwerust |
| Submitted on | Oct 10, 2008 |
| Page views | 23,075 |
| Favorites | 129 |
| Comments | 27 |
| Reviewer | schizo |
| Approved on | Oct 13, 2008 |