Project Playlist Resize and Take Away Buttons at Bottom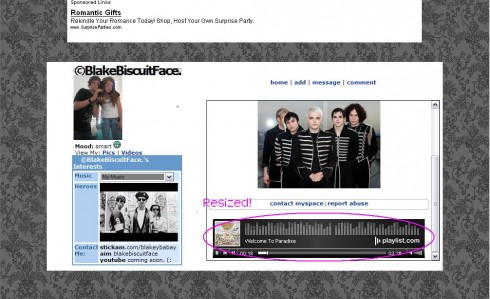 Author's Comments
Look carefully for specific instructions
Place your playlist ID where is says: PLAYLISTIDHERE

You need to get the code to post it on myspace first, the search for a numbered code containing many numbers w/ the URL code before like this:

http://www.musicplaylist.net/loadplaylist.php?playlist=PLAYLISTIDHERE

Script Code
Copy and paste to About Me
Script Comments
Showing latest 10 of 15 comments
@hannie0 try myflashfetish
Who's awesome?
You are!

Thank you for this. :]
Enable Project Playlist On Myspace :]
[URL]http://www.createblog .com/scripts/script.php?id=214 5[/URL]
I wish myspace hadn't blocked project playlist :(
If you change it to 0 on width and hieght it will be invisible, and if you have it on autoplay it will still play more than one song (: I found that out and love it Now (:
ohh i figured it out.. just change the width.. i put it at 200 instead of 435 or whatever
is there anyway i can make it even smaller? like i dont want it to be long i basically just want the PLAY & PAUSE & SKIP buttons to show...
I meant before you copy the code you choose the don't shuffle option, ie don't choose random play it's in the section where you're asked what colour playlist you want.
Before you add your playlist you just choose the don't shuffle option!!
well to make it not shuffle i would guess you cahgne the url with the words black_shuffle in it w/ watever other url is in the code.
View all »
Script Details
| | |
| --- | --- |
| Author | BlakeBiscuitFace |
| Submitted on | Oct 5, 2008 |
| Page views | 17,730 |
| Favorites | 95 |
| Comments | 15 |
| Reviewer | schizo |
| Approved on | Oct 6, 2008 |