Latest Comment Only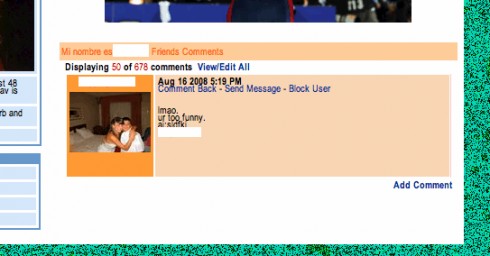 Author's Comments
Look carefully for specific instructions
i use safari and firefox on a mac so i dont know how it works for ie or servers on windows

you may have to adjust the widths
Script Code
Copy and paste to I'd Like to Meet
Script Comments
Showing latest 10 of 18 comments
Glad to be drunk
A completely inebriated man was stumbling down the street with one foot on the curb and one foot in
[url=http://www.newjewelryma ll.us/][b]wholesale fashion jewelry[/b][/url] the gutter. A cop pulled up and said, "I've got to take you in, pal. You're obviously drunk."

Our wasted friend
[url=http://www.newjewelryma ll.us/10-cartier-jewelry][b]Ca rtier love[/b][/url] asked, "Officer, are ya absolutely sure I'm drunk?"

"Yeah, buddy, I'm sure," said the copper. "Let's go."

Breathing a sigh of relief, the wino said, "Thank goodness, I thought I was crippled."
Electric Train
A few days after
classic designer jewelry Christmas, a mother was working in the kitchen listening to her young son playing with his new electric train in the living room. She heard the train stop and her son said, "All of you sons of bitches who want off, get the hell off now, cause this is the last stop! And all of you sons of bitches
wholesale Cartier jewelry who are getting on, get your asses in the train, cause we're going down the tracks."

The mother went nuts and told her son, "We don't use that kind of language in this house. Now I want you to go to your room and you are to stay there for TWO HOURS. When you come out, you may play with your train, but I want you to use nice language."

Two hours later, the son comes out of the bedroom and resumes playing with his train. Soon the train stopped and the mother heard her son say, "All passengers who are disembarking from the train, please remember to take all of your belongings with you. We thank you for riding with us today and hope your trip was a pleasant one. We hope you will ride with us again soon." She hears the little boy continue, "For those of you just boarding, we ask you to stow all of your hand luggage under your seat. Remember, there is no smoking on the train. We hope you will have a pleasant and relaxing journey with us today."

As the mother began to smile, the child added, "For those of you who are pissed off about the TWO HOUR delay, please see the bitch in the kitchen."

awesome! love it!

lol, simply take off the black borders...
the only reason the comment links are hidden is because your the only one that can see them anyways.
This code shows the pink, you have to make the width of blacktext10.
the point is i made this code, you just took it and took out my customizations.
It doesn't work for I.E. Sigh.
oooooh
THANK YOU!
i love it! but it doesnt work on IE =/ try to fix it please?? =)
This is such a help! Thank you!
LOVE IT, THANK YOU [;
Dude, it doesn't work for the IE
users! :O Try and fix it? [:
View all »
Script Details