Background Around Content (With Borders)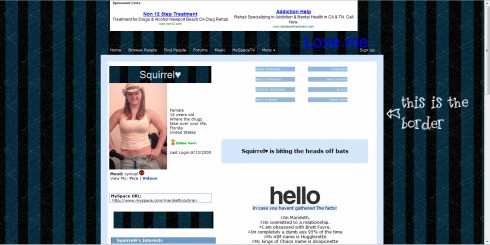 Author's Comments
Look carefully for specific instructions
First off this code has circulated everywhere for some time and in many places it is completely wrong.


Where the words (YOURCOLORHERENOTINPARENTHESIS) place the code to your color or any word color myspace already knows such as

BLACK
BLUE
RED
GREEN
PURPLE
BROWN
For a full list of these colors contact me
myspace

When I say place your color code there i mean it should look like this

border-color: black;}
or this
border-color: d5e8fb;}
Script Code
Copy and paste to About Me
Script Comments
Showing latest 10 of 18 comments
thanks
It was tested in IE, Safari, Opera, and Google Chrome. All browsers should allow it to dispay
*dances around ecstatically*
This is wonderful!!!
I looked FOREVER for this but this one really, actually works.
Thank you so much!
Worked perfectly!

Thanks =]
Sorry about safari but safari really is the worst browser ever. It has no protections I suggest Mozilla Firefox or Opera.
doesnt work in safari /:
i love it!!!!
:DDD
Perfect fix to a problem I've been having with uneven boxes.
Fav fav fav.
so cool! favvv
not that bad. ^.^
View all »
Script Details