Latest Comment Only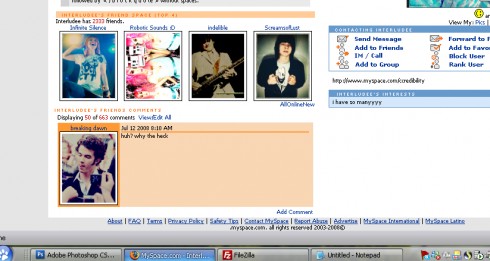 Author's Comments
Look carefully for specific instructions
I know the code is long. I also know that there is a code for this already but it didn't work. At least for me, so with a little bit of tweaking I got it too fix.

Place this at the bottom of your about me and please don't edit it otherwise it will stop working.
I know the code is in there twice, it's like that for a reason.

This only works for firefox and not IE which is why you should switch browsers lol. Idk abvout any other browsers because I don't use any other besides seam monkey and birdsong which are both mozilla.

Please add my layout site:) myspace.com/ccredibility
Script Code
Copy and paste to About Me
Script Comments
Showing latest 10 of 24 comments
It works for Safari but it doesn't work on Internet Explorer for me.
thiis only hides all my comments & kept the "add comment" link.
fiiix iit?
This worked perfectly fine for me, thanks! =D
What Bill168 said. It just shows how many.
great!
thanx amill...i gotta music page n i been lookin 4 dis....preciate it....good work
lmao some ugly ass black borders, try taking them off. and the comment links no one can see but you so hiding them doesn't do anything anyways.

mine is longer because it's customized reatrd
well... it almost works. haha it didn't show the comment, just the links "add comment" "view all" etc which, i mean, at least thats better than the other ones i've found so far! haha
yea but yours has some ugly ass black borders and a white border around the pic and it gets rid of the comment back send message block links and it gets rid of friends comments background so no there not the same and my code is alot shorter.
works great for me.
:]
thanks.
View all »
Script Details
| | |
| --- | --- |
| Author | Anthonyash |
| Submitted on | Jul 26, 2008 |
| Page views | 36,016 |
| Favorites | 143 |
| Comments | 24 |
| Reviewer | Insurmountable |
| Approved on | Jul 26, 2008 |