Remove Headline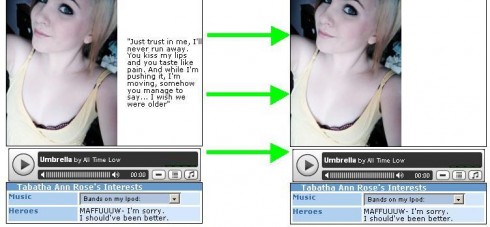 Author's Comments
Look carefully for specific instructions
Simple code, just put it into your about me.

This also hides: gender, location, online now icon

(It conflicts with certain codes, like if you have modified your display pic.)
Script Code
Copy and paste to About Me
Script Comments
Showing latest 10 of 19 comments
Make it at pro 2.0 can ?
How do u remove all the other stuff like the age and city butkeepiing the quote.?
Thank you!
I just changed the 1px 12px :)
cyndixlizz- you can make it hide. so ha.
finally one that works! & it didn't conflict with my other codes. thanks girl! =DD
perfecto!
love it.
thnks
haha didn't hide my online icon
is there any way i could JUST remove the quotation marks?
Is there a way to hide everything

BUT the quote & the online now?

I mean, I want those damn quote marks gone!

But I also want to keep my mood & my online now

Image/sign thing.


Thanks (:
can i adjust dat code in anyway to make it only remove the quote marks??
View all »
Script Details