Change the Color of the Interests Table [FIREFOX ONLY]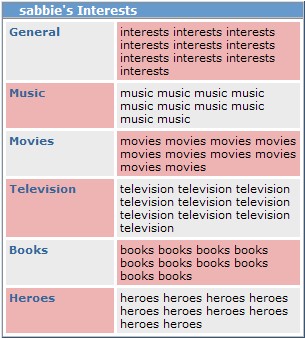 Author's Comments
Look carefully for specific instructions
NOTE: ONLY WORKS IN FIREFOX. sorry!

Change the colors to whatever you like.

I'm currently working on a version that will work in Explorer as well.
Script Code
Copy and paste to About Me
Script Comments
Showing latest 7 of 7 comments
chanteuse217: i believe so. if you have any problems with it, pm me.
is this possible w/having the table mostly hidden? im jus tryin to have a bunch of white space over there w/nothing but pictures.. and i feel like i dont know wtf im doing =X
this is fantastic
oh wow! i didnt know that there was an alternative for the id thing.

i thought it was only possible with "#generalrow" and myspace blocked the "#".

this is gonna be real useful! thank you so much for sharing this!
oh, and this script is awesome
A9M0i0R, firefox is better than internet explorer.

firefox gives you the world. internet explorer just gives you a ring.

firefox has an animal, which is creative. internet explorer just used an e, which is not creative.

and internet explorer makes it impossible to explore the internet without getting an search bar installed for each site you go to.
fu*k you ff!!!
Script Details