Widescreen Effect in Your Profile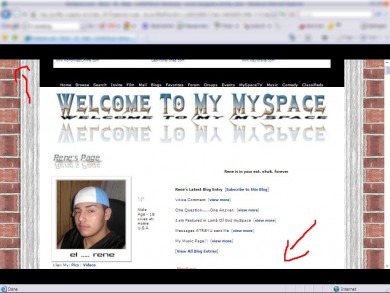 Author's Comments
Look carefully for specific instructions
**Follow Instructions**
1- Put the code in the ABOUT ME Section.
2- Don't preview it, just save it and then view your profile.
3- Enjoy it!!
View All My Scripts
Questions or Comments
myspace.com/el_rene
Script Code
Copy and paste to About Me
Script Comments
Showing latest 10 of 15 comments
works with firefox 3.0.1 on a G4 just fine
I LOVE THIS! [:
Haha. It doesn't work for the Firefox Users
though. But I use IE and it works in that.
Thanks for this code.
the only things i didnt like is that the widescreen wasnt fixed to the screen, i had to scroll down to see the bottom black bar. whats the point of that?
Unique!

looove itt!
thankyouu so much
werks fa me
myspace.com/juggalo_513
doesnt work for me.... :/
HAHAHA!!

ITS LIKE YOUR WATCHING A MYSPACE PROFILE MOVIE!
sweet! thanks a lot!
Marry Me!
:)
omg! amazing finish!!
View all »
Script Details
Script Tags