hide links in comments - "comment back, send message" etc.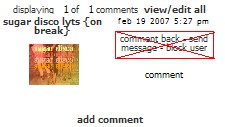 Script Code
Copy and paste to About Me
Script Comments
Showing latest 10 of 12 comments
thank you much. works perfect
mysace.com/Ministryap parel
Thank you
YES!
this is wonderful! thank you!
AWESOME.
WORKS IN IE AND FF !!!
=D
i like this code b/c i don't want to see "comment back.. ect" when i want to view my layout. if i want to comment someone back.. i'll go to "view/edit all" & just click "comment back" YOU PEOPLE COMPLAIN TOO MUCH.
um, it's just a code. it works. if you don't want it then...dont use it. wow, what a concept!
agrees
Yeah why would anybody want to hide it? Plus its only visible to yourself so yeah, no one else sees those link in the first place.
View all »
Script Details