Change Background Colors of Friends and Comments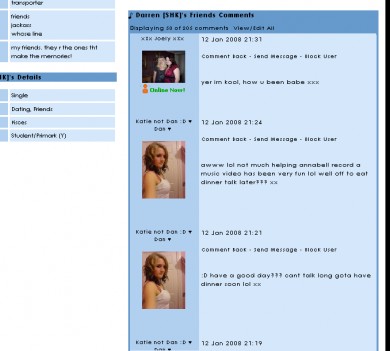 Author's Comments
Look carefully for specific instructions
I know enough about HTML to work out this code through trial and error, however I am unable to solve any problems with it.

See a live demo on my profile:
www.myspace.com/drink_yourself_sober

Change the COLORHERE tags to whatever colours you wish to use, set as transparent to use the same as the background.

=)
Script Code
Copy and paste to About Me
Script Comments
Showing latest 10 of 18 comments
if someone can edit this so it can be used in Profile 2.0, i'd be happy! :]
wow it works absolutely fantastic :D:D thank u so much :D !

Great,
and can you make the "Blurbs" Section Look like with the same color?!?
AWES0ME i DiDN'T EVEN KN0W Y0U C0ULD D0 THAT
qreattt! been lookinq for this forever!
how do you get the border off of the comments? it messes the code up for me...
Thank yoouuu.
The orange color is soooo annoying.
xD
nvm, got it.
Is there a way to remove that orange border left when you use this code?
blue
View all »
Script Details