Completely Customizable Interests Table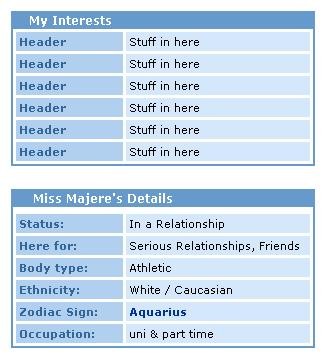 Author's Comments
Look carefully for specific instructions
PLEASE PLACE THIS CODE IN
'INTERESTS'
Have a look at the original thread for this code
here
.
Script Code
Copy and paste to Heroes
Script Comments
Showing latest 10 of 13 comments
thnks so much ;
i lovee this .
OMG!
Ilovethissoomuch :3
not using it tho, because my details&&interests are hidden [:
for now.
favorited!
omgg. this is. seriously awesome :D
exacctly what i needed.
cool.
Well. I dont neeed it thou. But heeeey, its coool.
Works PEFECLY. =]
why does it erase my background image??
can you fix that?
Gonna try this soon.
i have no use for this, but this is a pretty neat code
awesome thanks.
View all »
Script Details