Playlist in Extended Network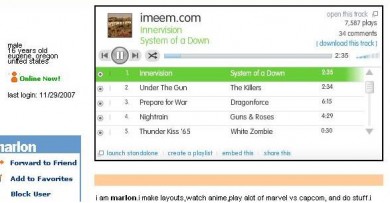 Author's Comments
Look carefully for specific instructions
FIRST OF ALL.
Have at least a bit of HTML knowledge.

Put a playlist in your extended network.I would recomend a Project Playlist or Imeem playlist. Play around with the width, height, top and left to fit your needs. Replace my playlist with yours.
Script Code
Copy and paste to About Me
Script Code
Copy and paste to I'd Like to Meet
Script Comments
Showing latest 10 of 43 comments
I Think this is outdated.
I've been trying to find a code like this FOREVER. It really helped a lot and all I really needed to teak was the positioning. =]
cool this also works for youtube videos!!
are you sure that you don't have a code that hides the music player?
it plays but dosen't show
I have a playlist from playlist.com where do i start to replace your playlist with mine?
this i Really confusing...
well it worked.
not totally, tho.
cuz like. ..my imeem player PLAYS.
but it doesn't show.
i've also checked all of the html codes i had to see if any of 'em had a deffect on your code.
none of them did.
so . ..yeah.
These realy work.
Thaks.
How come myspace players don't work?
You know the kind that you get from the music players and the code is almost the same as a video.
View all »
Script Details