UN-NAMED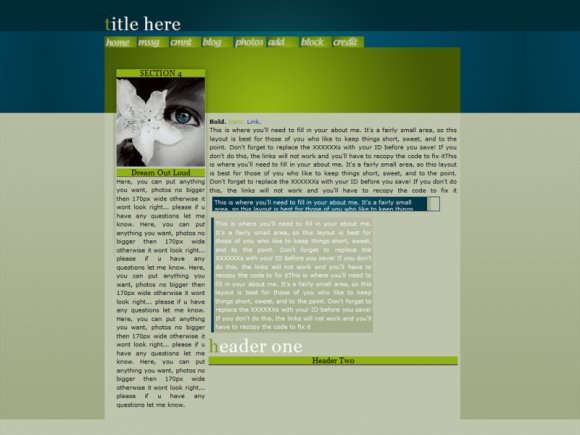 Designer's Comments
Look carefully for specific instructions
This no longer works on myspace iunless you have not upgraded to the new 3.0 if u are still under the 1.0 this will work
Using This Layout
For specific instructions read designer's comments
1. Log into myspace.com
2. Click on

Edit Profile (Profile 2.0)

3. Copy

(ctrl c)

and paste

(ctrl v)

code to the specified fields
Layout Code
Copy and paste to CSS (Profile 2.0)
Layout Code
Copy and paste to About Me (Edit Profile)
Layout Comments
Showing latest 10 of 22 comments
GAWD I love this
@Addielyn91, I think I know why ; I'm looking at this beautiful layout but for some reason I'm thinking that Myspace 2.0 doesn't take CSS coding. Only HTML from what I thought. And then Myspace 3.0 BETA doesn't take either one because there is no place for the codes to go. Is this layout CSS?
@SMARIESIMP, Oh no problem:DD
ha ha!
everytime i paste the CSS code, it automatically erases itself! i replaced all the xxxxxx's with my friend i.d but nothing seems to be working! i really love this layout! help?!?! D':
--Butterface89
oh i know because i don't want it deleted . thanks but i wasn't asking for your advice i was asking for a code .
hi im new to this. but i dont know how to put it on. help /:?
@SMARIESIMP, Myspace is going to delete your account if you hide any ads. They won't even give you a chance to stop doing that; they just delete you in the second. Why not just save them the trouble and delete your own account? Ha ha:DD
how do i hide the ads and powered by google thing please someone help me, (ASAP.) PM me on here telling how or my aol which is smariesimp1031@aol.com
Heyy um how do i get rid of the ad at the top? also the reg. myspace navigation bar? cuz its like, blocking part of the layout. please msg me on Aim: mrjastn or Myspace: myspace.com/myjustn Btw, i hella like this layout =]
omge i luv3d dis~~
View all »
Layout Details
Layout Tools
Layout Affiliates