Twilight_Breaking Dawn_Bella & edward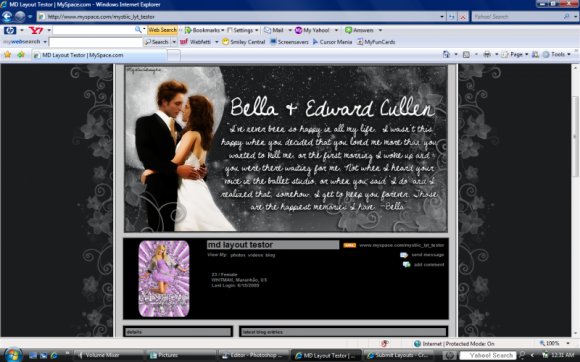 Designer's Comments
Look carefully for specific instructions
-If you Like or use this layout please comment! Thank you!
-I used photoshop to make this layout.
-The live preview is all messed up, thats not what it looks like when you use it tho!
-I also dont have firefox so it prob looks weird in it, sorry...
Credits:
-The image of Edward and Bella is manipulated, i used a wedding pic from a google search then took the faces from an image on twilighters.org and blended the 2 togther hehe
MystiicDesigns:
Myspace
|
Createblog
My Twilight Fans site:
Twilight Lounge
Using This Layout
For specific instructions read designer's comments
1. Log into myspace.com
2. Click on

Edit Profile (Profile 2.0)

3. Copy

(ctrl c)

and paste

(ctrl v)

code to the specified fields
Layout Code
Copy and paste to CSS (Profile 2.0)
Layout Comments
Showing latest 10 of 16 comments
im choosing to use this layout. n tq for this.. muaahxx
love ths layout..can i changes the banner pcs?

This layout is amazing! Thank you so much for creating it. "Whoreandsluts" Doesn't know what their talking about!!
they look beautiful together...(fainting...)
what the hell are you talking about "whorezandsluts"? if you dont like my stuff then dont fuckin comment, get a life dude! Just cuz you leave a bad comment im not going to change my style!
fix yur fukn profile . stupid whore i hate when ppl who donno wat they are doing paste their profile . would be cute if yu didnt fuk it up .
nice photomanipulation. it's really clean. :]
Finally gave in and saw "Twilight" last night for the first time. I really liked it. I am ready to buy it and possibly read the books now. Great job on the layout! :o)
too cute! I'm totally going to try this on my myspace
looks fine for me in firefox... make sure your settings are right :)
View all »
Layout Tools
Layout Affiliates