Tutorial
Click on thumbnailed images to enlarge
This Tutorial is for people who knows how to edit HTML.
1. Open your Adobe ImageReady.
2. Open the image that is ready for mapping. Im going to use my site's name for this.

3. Click P for the Shortcut of Rectangle Image Map Tool.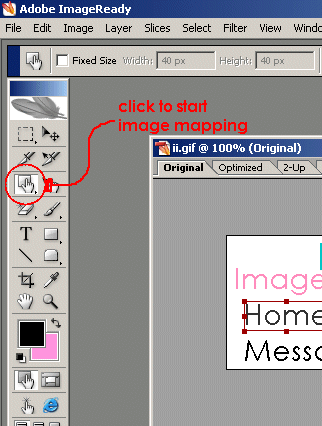 4. Put the address on the URL BOX on the right.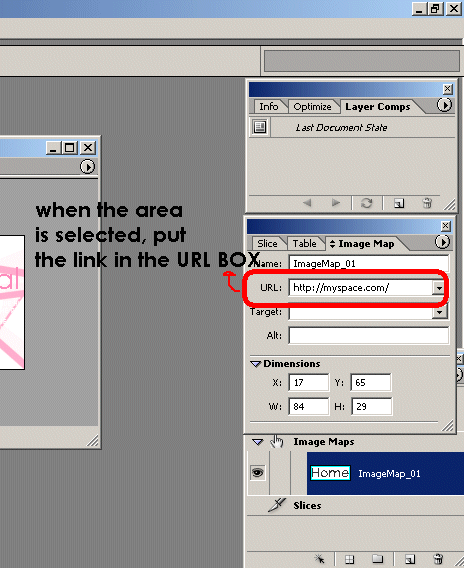 5. Click SELF on the TARGET BOX on the right.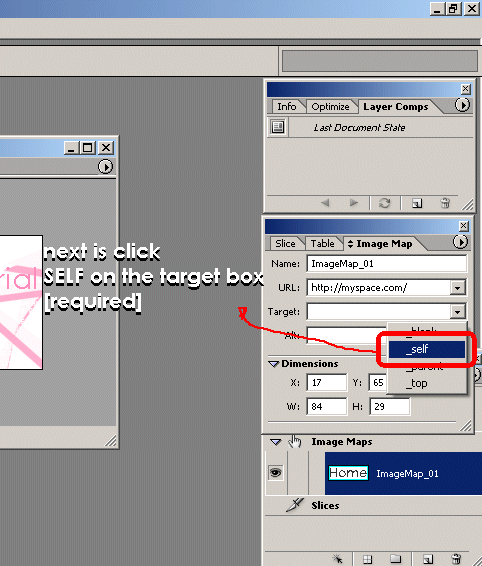 6. Repeat numbers 3,4 & 5 for the other texts to be mapped.
7. If you're done with all of it, go to EDIT, then COPY HTML CODE then FOR ALL SLICES.
8. The map code will be automatically copied so you have to paste it on your Microsoft Frontpage / Notepad.
9. Its done!
Tutorial Comments
Showing latest 10 of 31 comments
You can also just do it online x3 :
mobilefish.com/services/ima ge_map/image_map.php
Thank you for this, it's amazing. I've been wanting to do this, but I didn't know what it was called. Thanks so much for this tutorial. :D Hope you post more.
thanks this helped
oh my!
i had been looking for this
i didn't know what it was called...
thanks so much!
you can get image ready if you downloaded an adobe photoshop(any version)
but photoshop cs3 dont have that (:
you can download it here: www.adobe.com

i feel stupid but im really new to this lol wat exactly is image maping?
my friend sent me to this site so im figuring stuff out
and can this be done use photoshop cs3 rather then imageready?
i do my image mapping on this website:

http://www.w3schoo ls.com/TAGS/tryit.asp?filename =tryhtml_areamap
where can i get imageready?...please help me :DD
does this work on myspace????
what version do i need?
View all »
Tutorial Details
Tutorial Tags