Xanga Drawing Comments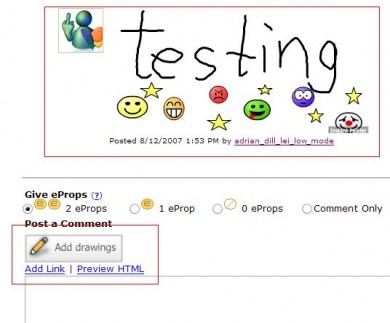 Author's Comments
Look carefully for specific instructions
With the Xanga Drawing Comments script, you can now draw stuffs on your Xanga Comment!
Steps:
Copy the following code to your
Private Xanga Page -> Look and Feel -> Web stat
(for more instuctions or demo, please refer to
http://www.xanga.com/xgDCmDemo/609490188/item.html
)
Script Code
Copy and paste to Website Stats
Script Comments
Showing latest 7 of 7 comments
ok
Friv

Y8 kizi
oh dc day
http://www.friv200.com

http://www.y8kizi.com
i've double checked everything but after i save it and go to test the app it says page not found....what am i doing wrong?
Awesome!
tats reli great

This script is very awesome! X33 However how come when it comments, the white in the picture is always transparent? It's not so good for my xanga since my background is black-ish
Script Details
Script Tags