Comment Images Enabler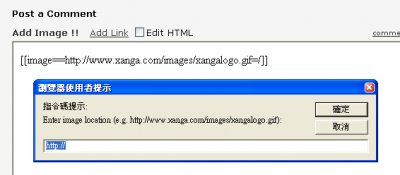 Author's Comments
Look carefully for specific instructions
For those of us who want to be able to leave picture in a comment like myspace.com users can, it's here! With this script, you can enable this function for Xangans to leave pictures on your blog.

Disclaimer: I nor the<a href="http://www.xangascript.info/cie.php"> author </a>will NOT be liable for any loss of any kind arising from the use of this script, including but not limited to direct, indirect, incidental punitive and consequential damages.

After installation, you will able to see the link "Add image" above the comment box.


1. Go to "Look and Feel"


2. Scroll down to "Website Stats"


3. In the textbox next to it, paste the following code. (The higher you place the code, the faster it will be loaded)

4. Click "Save Changes"


5. Finished!
Script Code
Copy and paste to Website Stats
Script Comments
Showing latest 1 of 1 comments
This is super cool. I just put it in my CLAF. Thanks!