add chat box to blogrings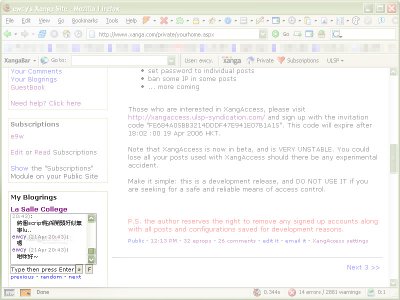 Author's Comments
Look carefully for specific instructions
Just paste the following script into your Xanga's Website Stat in Look and Feel. Modify correspondingly with your Xanga ID, then go back to your private home and start chatting!

You can disable chatting function on some blogrings by adding this line into the script (right after the line you type your Xanga ID).

var xangachat_disable = new Array(0,12345,12346);

"12345" and "12346" are the blogring IDs that you want to disable. The leading "0," must NOT be removed.

----------------------------------------------

Once you've insalled the chatbox, you can go to the private home of your xanga, and start typing in the chatboxes. If people in the respective blogrings have the same script installed, they'll be able to see your messages and reply to them.
Script Code
Copy and paste to Website Stats
Script Comments
Showing latest 1 of 1 comments
I forgot to acknowledge the author. It's actually written by Eddy-Das and you can find the official web site of xangachat @ http://v1.xangachat.net/home.php