Fieldset Box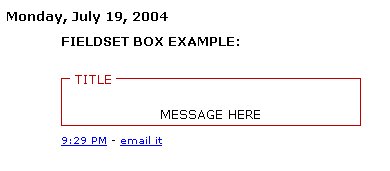 Author's Comments
Look carefully for specific instructions
Description:
This like a box that you can put a title on and some messages you want.

You Can Change:
- you can allign the TITLE at the left, center or right.
- you can change font, color, border, width, height.

Put In:
You can put this to your "Header HTML" if you want it at the top of your xanga or at the "Website STATS" if you want it at the bottom. Also, you can put it in your entries, just click the "EDIT HTML" when you create a new post.
Script Code
Copy and paste to Header HTML
Script Comments
No comments yet. Be the first one to comment!
Script Details
| | |
| --- | --- |
| Author | BeyondElite |
| Submitted on | Mar 1, 2006 |
| Page views | 30,247 |
| Favorites | 22 |
| Comments | 0 |
Script Tags