Winter Road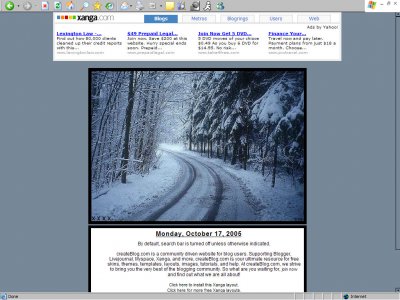 Using This Layout
For specific instructions read designer's comments
1. Disable Xanga themes

(edit theme -> uncheck make this your active theme -> save)

2. Log into xanga.com (look & feel)
3. Copy

(ctrl c)

and paste

(ctrl v)

code to the specified fields
Layout Code
Copy and paste to Header HTML
Layout Code
Copy and paste to Website Stats
Layout Comments
Showing latest 6 of 6 comments
i LOOOVE this layout! good job on making it! but my blogs go past the white box.. how do i fix it? thaank you!
http://edit.xanga.com/claf.aspx?preview=1
QUOTE(bifaerie @ Nov 26 2005, 12:28 AM)Click here to install this Xanga layout.[right][snapback]1760332[/snapback][/right]Hey I like your layout and I'm actucally using it rite now on my website. The only complaint I have is the fact that I can
I did not realize this but there is extra coding that is not needed in the website stats part.This is what you can take out: <script language="javascript"> <!-- var links = document.getElementsByTagName ('a'); for &
Thanks, I really loved making it.
I LOVE that! I love the color, the picture, everything. Very nice.
Layout Details
Layout Tools
Layout Affiliates