Reborn! - dying will'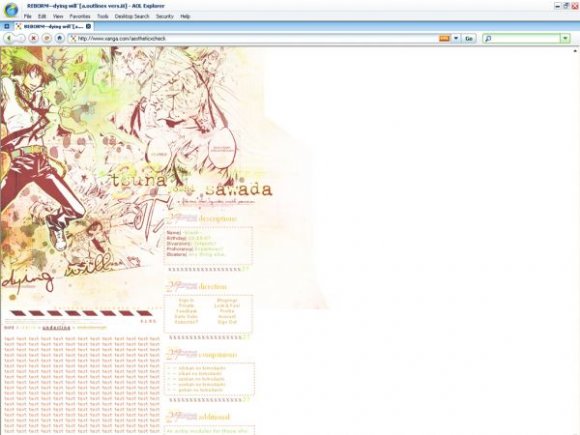 Designer's Comments
Look carefully for specific instructions
Ft. Tsuna(yoshi) Sawada from my newest favorite series, Kateikyoushi Hitman REBORN! I nearly had a nosebleed when I saw all the hot smexy bishounen from the anime. xS This layout was made to commemorate Tsuna's birthday (October 14th). Ironically, Reborn's birthday is on the 14th as well. Sorry I couldn't make a layout for you Reborn. I just love Tsuna more. ;X
Actually. My favorite character from Hitman REBORN! isn't Tsuna. x3 YAMATO FTW!!1! >;3 MINE I SAY. MINE. After that, it's Hypermode-Tsuna x3. Then it's regular Tsuna. Then its Gokudera AND THEN it's Lambo. xD Yay for cows.
Layout details:
The scans I used are from the 15th Volume of Hitman Reborn! scanslated by Cosa Nostra Scanslations(?). On this skin, I mainly focused on arranging the different images I picked into a way it looked nice. In the begining, I had nearly 40 images I cut from pages of the manga, but I ended up with 5 in the end haha! I used two textures from Synthoxide and brushes by Kakii. The fonts I used are Times New Roman, Last Words and Violation (My new favorite font xD). The color scheme, as you can see, is pretty fruity. XD I tried aiming for a sort of... "guy's" style. Didn't really come out the way I wanted, but oh well. It will do for now.
Originally, I had a perfect layout—You know, one of those things that miraculously come from "above". But then... my PS went KABOOM on me and froze. I had to end the program without saving and .... I cried. ;_; It was the best layout I had ever made... And poof. It was gone. -sobs-
Well anyway, enjoy.
— Chifuni
Using This Layout
For specific instructions read designer's comments
1. Disable Xanga themes

(edit theme -> uncheck make this your active theme -> save)

2. Log into xanga.com (look & feel)
3. Copy

(ctrl c)

and paste

(ctrl v)

code to the specified fields
Layout Code
Copy and paste to Header HTML
Layout Comments
Showing latest 8 of 8 comments
omg! i love reborn! your amazing! LOVE IT!
So amazing, I'm speechless. :]
That's awesome.
woo hoo hot tsuna fish!
Awesomeness! I love the table headers.
woot ~ this is cool *0*
this is relli awesome i love it :)
Layout Details
| | |
| --- | --- |
| Designer | endsofspace |
| Submitted on | Jan 23, 2008 |
| Page views | 15,389 |
| Favorites | 38 |
| Comments | 8 |
| Reviewer | freeflow |
| Approved on | Jan 23, 2008 |
Layout Tags
Layout Tools
Layout Affiliates