Raining Skulls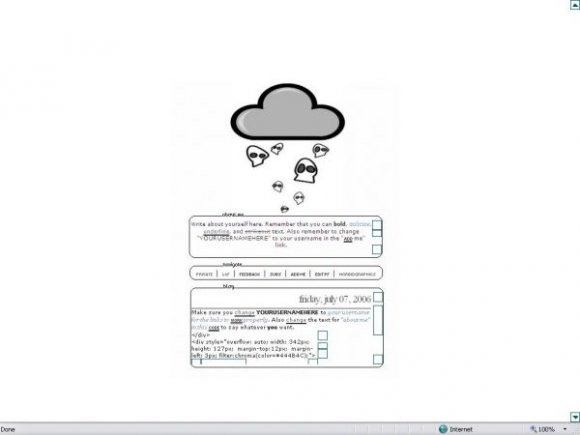 Using This Layout
For specific instructions read designer's comments
1. Disable Xanga themes

(edit theme -> uncheck make this your active theme -> save)

2. Log into xanga.com (look & feel)
3. Copy

(ctrl c)

and paste

(ctrl v)

code to the specified fields
Layout Code
Copy and paste to Header HTML
Layout Comments
Showing latest 10 of 14 comments
where is the header html?
i love it!
i love it. the simpleness. wow.
i think you should make another with a different graphic on top.
such a cute and simple layout. great job!
SOMEONE SHOULD DO THIS LAYOUT IN A MYSPACE FORM CUZ ITS AWSOME!
The font I used is called "small fonts". that's it...nothing complicated. I haven't found a link to download this font, but I've been looking. It SHOULD be installed on most computers, but it's not on mine.

As for the myspace thing, I'll add that to my list. It'll actually be easy to do so I think I'll work on that first thing next weekend.
wow. all your xanga layouts are really nice!
i like the simplicity, and the rounded edges. and i agree that this would make a great myspace div.
hmm.
whats the font used for the "about me", "navigation", and "blog"?
I love your simple style. This looks very clean.
damn, this would be an AMAZING myspace layout. is there any way i could make that happen?
i deleted the comment about this, but yes, this is /based/ on a layout from sombody else. it's similar in many ways, but i did type and make everything myself. the only things i used from it was i took the basic div info, adjusted it and parts of the code, and made the background based by what i saw. thought i'd clear that up. =)
View all »
Layout Tools
Layout Affiliates