Skyline
Website Templates / 3+ Columns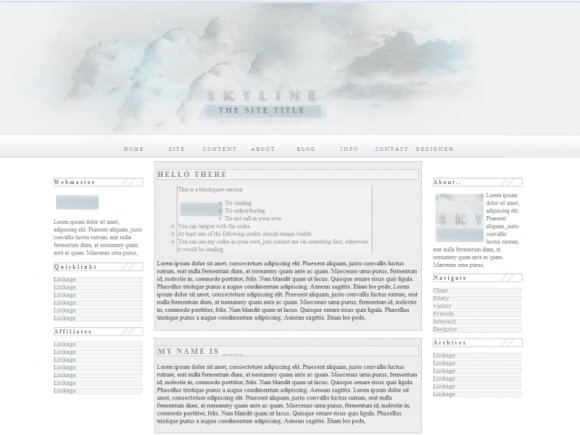 Designer's Comments
Look carefully for specific instructions
I've had quite a few ask if they can use the codes for their own, and yes you can ONLY under one circumstance, that i require some sort of credit for my work, that is all
Layout Code
Copy and paste to Template HTML
Layout Comments
Showing latest 7 of 7 comments
id love to use for a church website,thx :)




S K Y L I N E v.1






The Site Title







Hello there
This is a blockquote section



No stealing
No redistributing
Do not call as your own
You can tamper with the codes
At least one of the following credits should remain visible
You can use my codes as your own, just contact me via createblog first, otherwise it would be stealing.



Lorem ipsum dolor sit amet, consectetuer adipiscing elit. Praesent aliquam, justo convallis luctus rutrum, erat nulla fermentum diam, at nonummy quam ante ac quam. Maecenas urna purus, fermentum id, molestie in, commodo porttitor, felis. Nam blandit quam ut lacus. Quisque ornare risus quis ligula. Phasellus tristique purus a augue condimentum adipiscing. Aenean sagittis. Etiam leo pede,

Lorem ipsum dolor sit amet, consectetuer adipiscing elit. Praesent aliquam, justo convallis luctus rutrum, erat nulla fermentum diam, at nonummy quam ante ac quam. Maecenas urna purus, fermentum id, molestie in, commodo porttitor, felis. Nam blandit quam ut lacus. Quisque ornare risus quis ligula. Phasellus tristique purus a augue condimentum adipiscing. Aenean sagittis. Etiam leo pede,




My name is ____
Lorem ipsum dolor sit amet, consectetuer adipiscing elit. Praesent aliquam, justo convallis luctus rutrum, erat nulla fermentum diam, at nonummy quam ante ac quam. Maecenas urna purus, fermentum id, molestie in, commodo porttitor, felis. Nam blandit quam ut lacus. Quisque ornare risus quis ligula. Phasellus tristique purus a augue condimentum adipiscing. Aenean sagittis. Lorem ipsum dolor sit amet, consectetuer adipiscing elit. Praesent aliquam, justo convallis luctus rutrum, erat nulla fermentum diam, at nonummy quam ante ac quam. Maecenas urna purus, fermentum id, molestie in, commodo porttitor, felis. Nam blandit quam ut lacus. Quisque ornare risus quis ligula. Phasellus tristique purus a augue condimentum adipiscing. Aenean sagittis. Etiam leo pede,





Extra table
Lorem ipsum dolor sit amet, consectetuer adipiscing elit. Praesent aliquam, justo convallis luctus rutrum, erat nulla fermentum diam, at nonummy quam ante ac quam. Maecenas urna purus, fermentum id, molestie in, commodo porttitor, felis. Nam blandit quam ut lacus. Quisque ornare risus quis ligula. Phasellus tristique purus a augue condimentum adipiscing. Aenean sagittis. Lorem ipsum dolor sit amet, consectetuer adipiscing elit. Praesent aliquam, justo convallis luctus rutrum, erat nulla fermentum diam, at nonummy quam ante ac quam. Maecenas urna purus, fermentum id, molestie in, commodo porttitor, felis. Nam blandit quam ut lacus. Quisque ornare risus quis ligula. Phasellus tristique purus a augue condimentum adipiscing. Aenean sagittis. Etiam leo pede,









Home
Site
Cont ent
About
Blog
Info
Contac t
Designer










About..

Lorem ipsum dolor sit amet, adipiscing elit. Praesent aliquam, justo convallis luctus rutrum, erat nulla fermentum diam, at nonummy quam ante ac quam. Maecenas urna purus,



Navigate
Clear
Sitel y
visitor
Friends
Interact

Designer


Archives
Linka ge
Linkage
Linkage
Linkage

Linkage
Linkage










Webmaster



Lorem ipsum dolor sit amet, adipiscing elit. Praesent aliquam, justo convallis luctus rutrum, erat nulla fermentum diam, at nonummy quam ante ac quam. Maecenas urna purus,

Quicklinks

Linkag e
Linkage
Linkage
Linkage
Linkage
Linkage

Affiliates

Linkage
Linkage
Linkage

Linkage
Linkage
Linkage
Li nkage

Beautiful Girl Don Kama
Can I use the coding for my fansite? I'll leave you credit for the style/code..
love it! using stylsheet, will keep your credit visible! thank you!
i LOVE this
Very beautiful definitely very professional looking its elegant and classy looking. Its very smooth and not all chaotic at all. Amazing job you did!!
Layout Details
Layout Tools
Layout Affiliates