Winter Song
Website Templates / 3+ Columns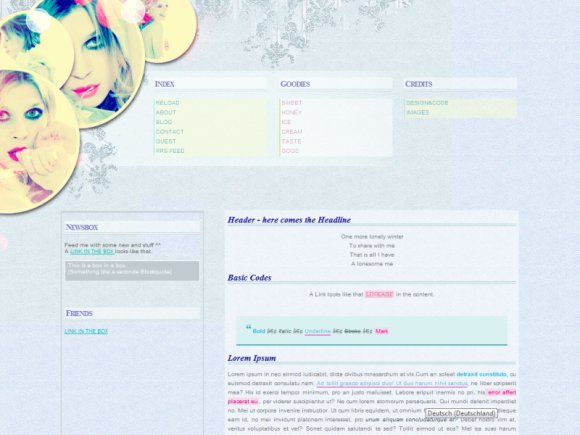 Designer's Comments
Look carefully for specific instructions
best view with Mozilla Firefox

(please leave a comment, if you use it ^^)


  /l、
゙(゚、 。 7
 l、゙ ~ヽ
 じしf_, )ノ
Layout Code
Copy and paste to Template HTML
Layout Comments
Showing latest 10 of 10 comments
lovely
ab-so-lut-e-ly great. id like to use it
I love the navigation on this one.
Thats really creative. I'll bee using it sometime.
I'll be using this. :)
the girl on top scares me alittle. but i like the layout:)
Very pretty colors. Looks amazing. :)
I love everything about this.
I'm especially fond of the navigation and image.
Amazingly well done. :D
Love the color scheme and the top navigation! Lovely work, as always. :]
ZeBiii, I haven't seen you in so long! This is really pretty.
Layout Details
Layout Tags
Layout Tools
Layout Affiliates