she isn't real ::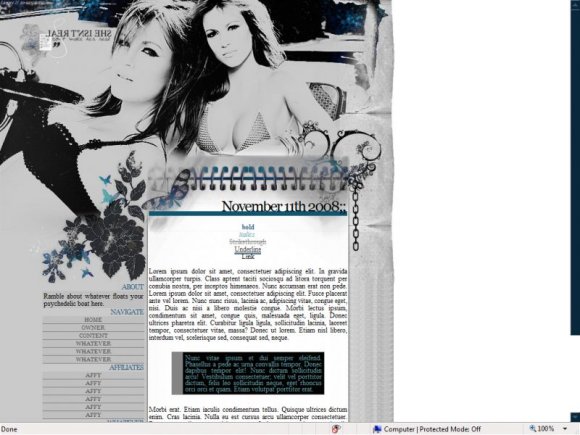 Designer's Comments
Look carefully for specific instructions
"She Isn't Real" featuring Danneel Harris (One Tree Hill, Harold & Kumar, etc.).
I was listening to "Vermilion, Pt. 2" by Slipknot while I was trying to come up with some text for the banner, so I slapped some lyrics on there.

Please do not remove my credits or edit any part of this layout.
I spent five hours making it and would rather not have it messed with.
Layout Code
Copy and paste to Template HTML
Layout Comments
Showing latest 9 of 9 comments
great job here!
were is the template html at on myspace for me to post the code


This layout is very beautiful, and the only layout that is even worth a damn thats tagged with 'slipknot'.
This layout is beautiful =]
I love it
And I love Vermilion AND Vermilion Pt. 2 xD
Awesome songs :3
i love how it has a stationary feeling to it. greatt job! =]
purttty!
The CSS and banner look good, but I think the bg of the content shouldn't be white (it's quite contrasting) and also the white bg of the whole page. But other than that, nicely done. I especially like the sidebar. :D
beautiful! Love the effect!
Layout Tags
Layout Tools
Layout Affiliates