Puppy Love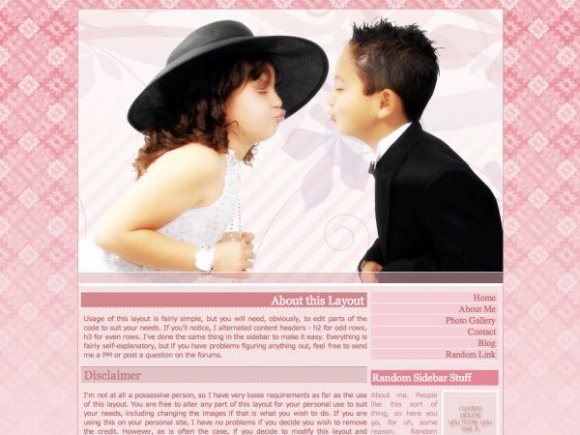 Designer's Comments
Look carefully for specific instructions
Decided to do something a bit new. I don't know what my deal is with pink lately.

Image used with permission from sxc.hu.
Photographer: http://www.sxc.hu/profile/omar_franc

Usage - I left this partially plain because I wanted to make it as customizable as possible. Feel free to make any changes you think might be necessary. :)

Note to anyone altering the layout -
This layout uses a conditional statement that has styles for Internet Explorer. If you change anything and find that it's very messed up in IE, you may try changing that portion as well.

edit; To those who asked for a myspace layout, thanks for your interest - you may find it here:
http://www.createblog.com/layouts/code.php?id=26061
Layout Code
Copy and paste to Template HTML
Layout Comments
Showing latest 8 of 8 comments
i love this layout. everything about it.well done
awww, this is so sweet.
great job.
I really like this one. The banner is kind of plain, but that can easily be modified. Keep it up!
I love this! Can you make it for Myspace? Please!
The banner is slightly too big to be left blank like that, but it's a sweet layout. :3
You did a very good job on all your layout. and thanks for letting us use them. I really want this layout. but I try to put it on my-myspace it don't show..help!
Those kids are like uber ugly lol
Wow I really like this! It's really sweet, everything fits well together. You did a fantastic job!
Layout Details
Layout Tools
Layout Affiliates