Winter Solstice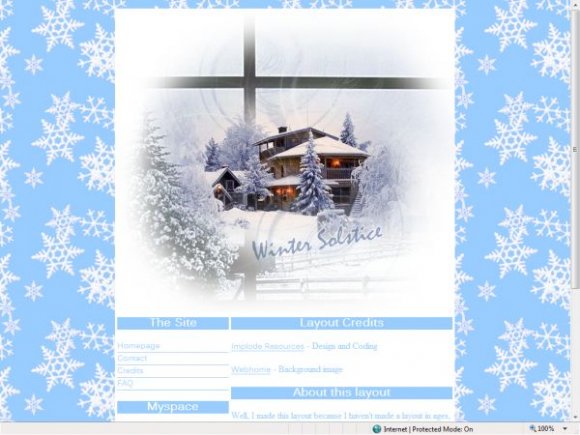 Designer's Comments
Look carefully for specific instructions
Replace the YOUR URL HERE with your navigation links obvs :D

Keep the credit in the footer section :]
Layout Code
Copy and paste to Template HTML
Layout Comments
Showing latest 6 of 6 comments
I looove this.
Might use it on my site (Y)
x
Yeah :) The picture's working fine :]
Must be the dial-up :]
is the picture on this working or is it just cause im using dial up today
Hey, can I turn this into a MySpace layout then aubmit it to CreateBlog?
Ill give you full credit.
Haha, okay, so it is early, :) But one month and it'll be winter. Autumn and summer are now apparently combined in one, and don't mean anything anymore! :)
So it's basically Spring and Winter :D Read it in a book and on the news ;)
Laaame UK news, hahaha.

But it's Fudging FRRREEEEEEZING here, so it's basically like winter. :)

Peace.
it's a bit early dont you think haha
Layout Details
Layout Tags
Layout Tools
Layout Affiliates