Tutorial
Click on thumbnailed images to enlarge
In this tutorial I'll give you the basics of
Photoshop Brushes
The
Brush
tool

, located on the toolbox, applies foreground color as you drag within an image, in the form of freehand lines that could be sharp or blurry. Pressing
Shift
while you drag the tool keeps the line straight
You can activate the
Brush
tool by pressing
B
or by selecting it on the toolbox. When the
Brush
tool is active you'll see in the Options bar settings for controlling the Brush Mode, Opacity, Flow, you can activate the Airbrush function, you can select brushes, and a drop-down arrow where you can control the Diameter of your brush, the Hardness, and you can also create Brush presets, Reset, Load, Save and Replace brushes. But a nice thing to know is that you can also right-click anywhere in the image window when the
Brush
tool is active and you'll see a small palette of preset brush shapes with a drop-down menu with additional options
----------------------------------------------------------------------------------------------------------------------------------------------------------------
So here's a view of the Options bar when the
Brush
tool is active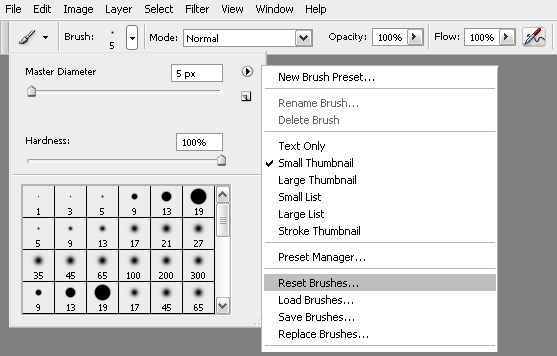 The
Brush Modes
, located in the Options bar when the
Brush
tool is active, provides 25 different modes that mix colors inside a layer
The
Opacity
setting controls how opaque your brush is going to paint
The
Flow
setting controls how quickly paint is applied
With the
Airbrush
function On, the color applied by your brush continues to build as long as you press the mouse button, even when holding the cursor in the same position. You can invoke the
Airbrush
function when your
Brush
tool is active by pressing
Shift
+
Alt
+ P, and pressing it again turns if off

Remember that is best to paint in a separate layer, and not in the same layer of your images, cause you can always delete or modify that layer, and your brush won't affect your image layer. Also remember that you can use the
Eyedropper
tool to sample colors from an image by
Alt
clicking when using the
Brush
tool
The
Master Diameter
value represents the width of the brush. You can type a value here in pixels and you can also use your right ( ] ) bracket key to make the brush bigger or the left ( [ ) one to make it smaller
With the
Hardness
slider you can soften the edges of a brush by dragging the slider bar to the left
When you click the top right-arrow in the
Brushes
menu, you'll get this
↓
menu along with a list of all your installed brushes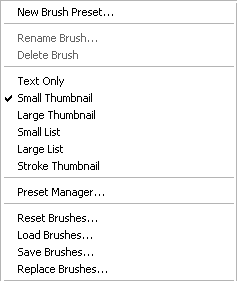 Here you can make
New Brush Presets
, rename and delete brushes, from
Text Only
to
Stroke Thumbnail
are settings for your brush thumbnails in the
Brush menu
, and Reset, Load, Save and Replace, they all let you do exactly that
How to define custom Brushes in PS?
You can make
Brushes
in PS really easy and out of anything (text, images, shapes, selections etc). With your image or whatever your making the brush of already opened, go to
Edit
→
Define Brush Preset
type the name of your brush in the
Brush Name
dialog box, click OK]/b] and thats it, your brush should appear last in your current brush list...really easy right!

To ensure that your custom brushes are saved in case you delete the preferences file or for use on another computer, choose Save Brushes from the palette menu
The
Brushes
palette gives you lots of options for modifying your brush tips. If you don't see your
Brushes
palette press
F5 or go to [b]Window
→
Brushes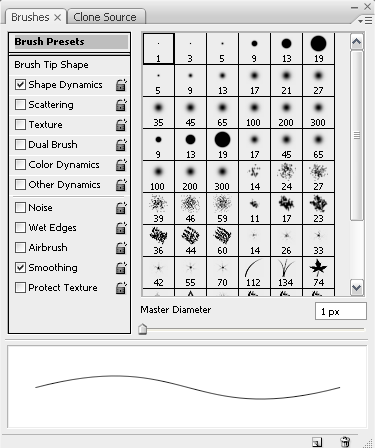 How to install Brushes in PS?

Installing brushes in PS it's really easy too. PS
Brushes
have the
.abr
file extension, you just have to find it in your downloaded file, copy it by right-clicking →
Copy
or selecting it first and then press
Ctrl
+
C
, then go to the disk where PS is installed on your computer
C:
→
Program Files
→
Adobe
→
Adobe Photoshop
→
Presets
→
Brushes
→ right-click
Paste
or press
Ctrl
+
V
, now you should see your
Brush
in your brushes list
How to save Brush sets?
To save all brushes currently displayed in the
Brushes
palette, choose
Save Brushes
from the palette menu. If you want to save only some of the brushes as a set, however, choose
Edit
→
Preset Manager
,
Shift + click
the brushes you want to save, and then click the
Save Set
button, but if you want to select non-contiguous brushes, use the
Ctrl
key as you click on the brushes you want to save
(c) The Photoshop Group
Tutorial Comments
Showing latest 1 of 1 comments
i got lost on the first step for downloading brushes....please help :]
Tutorial Details
| | |
| --- | --- |
| Author | elrene06 |
| Submitted on | Dec 28, 2007 |
| Page views | 11,649 |
| Favorites | 22 |
| Comments | 1 |
| Reviewer | themarkster |
| Approved on | Dec 28, 2007 |
Tutorial Tags