Get a Retro Effect.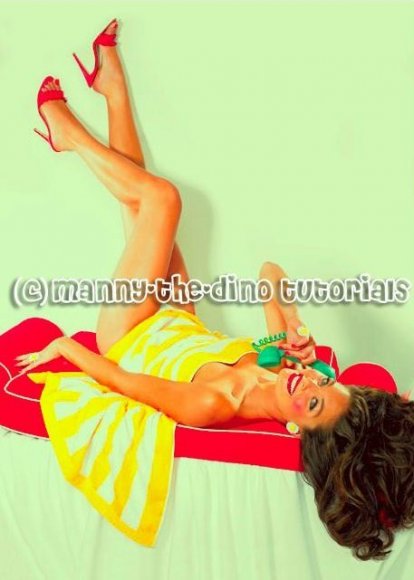 Tutorial
Click on thumbnailed images to enlarge
**NOTE**
I did this tutorial in Photoshop CS3 Extended which is why some of you

may

have problems. However, that

does't

mean this tutorial won't work in other versions of Photoshop. Just try it out.
Tired of having your photos look so...
modern
?! Well now's your chance to fix that. I will teach you how to make them look retro. Here's the before:
Here's the after:
Let's start!
001.First, open up your photo.
002.Create a new layer by clicking on the "Create a New Layer" button in the layers palette.
003.Select your Rectangular Marquee Tool (M).
004.Make a selection on half of the picture.
005.Go to your Swatches, select a red, & fill the selection with the red by pressing atl+backspace.
006.Now go Select>Inverse.
007.Do step 5 but instead of selecting a red, select a lime color.
008.Make your "Layer 1" invisible & select your "Background" layer.
009.Do a ctrl+d & go Image>Adjustments>Match Color.
010.Apply the following settings:
Color Intensity: 150
Fade: 75
Source: YOUR PICTURE
Layer: Layer 1
011.Press Ok & your have your retro looking photo!
If you got lost or have any questions, comment the tutorial & I'll get back to you as soon as I can. :D
Tutorial Comments
Showing latest 10 of 20 comments
I love this! thanks so much! =]
I ABSOLUTELY LOVELOVELOVE THIS!!
Unfortunately...
My Photoshop is ancient && doesn't have 'match color'...
ugh.
X(
Great work, though;
i dont have match color

That is AWESOME. Thanks! :D
how do u make the layer invisible??
omggg this was badass!
Nevermind, I need PS3.
Finally did I find this tutorial! xD Thank you so much.
really need this for PS7!
where is Swatches found?
View all »