Add Some Steam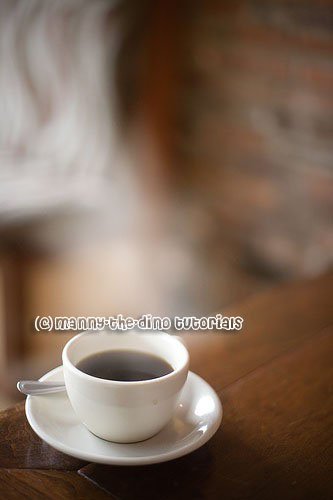 Tutorial
Click on thumbnailed images to enlarge
**NOTE**
I did this tutorial in Photoshop CS3 Extended which is why some of you

may

have problems. However, that

does't

mean this tutorial won't work in other versions of Photoshop. Just try it out.
Tired of having steam NOT appear in your cup of joe when you take a picture of it? Well don't worry, m'dear, I have the solution for you. I'll be using an ordinary picture of a cup of coffee. Here's the before: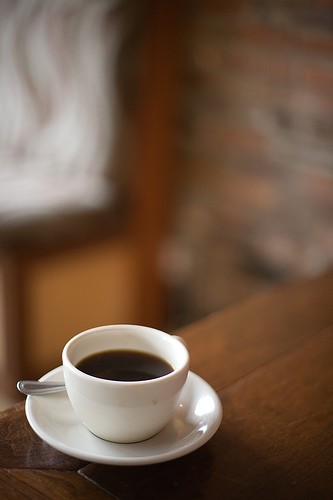 Here's the after:
Let's get started!
001.First, open up your picture.
002.Next, select your Rectangular Marquee Tool (M). Make sure your Feather setting is set at 25px.
003.Make a rectangle just above your cup of coffee as I have done. If it's not where you want it, you can always use the Move Tool (V) to move it around.
004.Now go Layer>New>Layer.
005.Name this layer "Clouds".
006.Before moving any further, make sure your foreground is set to #btbdbd & your background is white. Go Filter>Render>Clouds.
007.Now go Filter>Blur>Motion Blur.
008.Make sure your angle is set to -90 degrees & your distance is 160 pixels.
009.Do a ctrl+d to deselect your selection. Then go Filter>Distort>Wave.
010.Apply the following settings:
Number of Generators: 5
Wavelength Min.:10
Wavelength Max.: 120
Amplitude Min.: 5
Amplitude max.: 30
Scale Horiz.: 100%
Scale Vert.: 100%
Type: Sine
Undefined Areas: Repeat Edge Pixels
011.With your "Clouds" layer selected, change the blend mode to Hard Light & the opacity to 90%.
012.Now do a ctrl+j & set your opacity to 60% to have a more erratic steam effect.
013.Then go Edit>Transform>Flip Horizontal.
014.you can always move your steam around if you don't like where it is or erase some using the Eraser Tool (E). But now you have your final product! Yay!
If you got lost or have any questions, comment the tutorial & I'll get back to you as soon as I can. :D
Tutorial Comments
Showing latest 2 of 2 comments
damn..
u know how to do eveything!!
thnx! :-B
oh shoot, that's heck awsome
Tutorial Details
| | |
| --- | --- |
| Author | manny-the-dino |
| Submitted on | Nov 27, 2007 |
| Page views | 20,440 |
| Favorites | 69 |
| Comments | 2 |
| Reviewer | themarkster |
| Approved on | Nov 27, 2007 |