Add Tape to Your Photos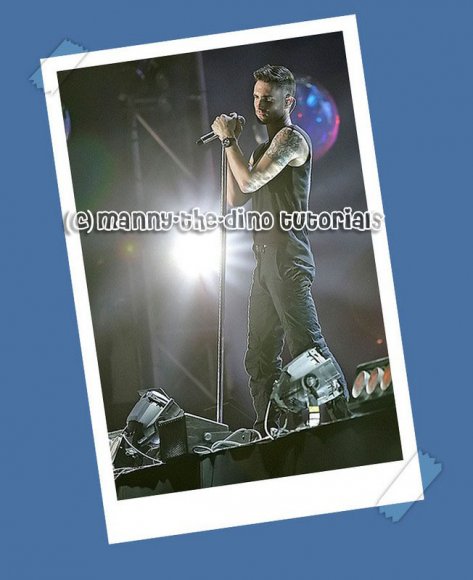 Tutorial
Click on thumbnailed images to enlarge
**NOTE**
I did this tutorial in Photoshop CS3 Extended which is why some of you

may

have problems. However, that

does't

mean this tutorial won't work in other versions of Photoshop. Just try it out.
Want to add something different to your pictures? Well if you're thinking tape, then this is the tutorial for you. I'm going to use a little something something I made featuring Mr. Sexy aka Adam Levine.
;)
Here's the before:
Here's the after:
To work!
001.You know what to do. Open your image.
002.Go Layer>New>Layer.
003.Press Ok when the pop-up appears & re-name your new layer "tape".
004.Select your Polygonal Lasso Tool (L).
005.Make a slanted rectangle at the top corner of your picture.
006.Do a ctrl+backspace to fill the rectangle with white (Make sure your fg & bg colors are reset. Press "D" to do so).
007.With your "tape" layer selected, click on the "Add a Layer Style" button & choose "Outer Glow".
008.When the pop-up appears, apply the following setttings:
Blend Mode: Normal
Opacity: 100%
Noise: 0%
Color: Black
Technique: Softer
Size: 7
Range: 50
009.Using the Polygonal Lasso Tool again, cut a selection that makes the tape have a jagged edge effect (You may want to zoom in a bit to see better). Press "backspace" & ctrl+d after.
010.Do the same for the other end.
011.Now go to your layers' palette, have your "tape" layer selected, & change the blend mode to "Overlay" & the opacity to 24.
012.If you want, you can add another piece of tape on the opposite bottom corner of your picture to balance it out. And you're done! You have your final product! Yay!
:)
If you got lost or have any questions, comment the tutorial & I'll get back to you as soon as I can. :D
Tutorial Comments
Showing latest 5 of 5 comments
ITS EASIER TO JUST DOWNLOAD TAPE BRUSHES...
So cool! Thanks!
sweet as ! i love the tut you did a great job explaining it and all
check out what i used it in (:
http://katt92.deviantart.c om/art/summer-o8-74391301

t hanks so much ! i gave you some credit for it :P
hmm.. i try doint it but i doesnt work. when whenever i press backspace & ctrl d the thing disappear and it cut tht i want for the tape doesnt show up
thanks for the tutorial! oh and adam levine = sexy. :D