Retouch Your Hair & Skin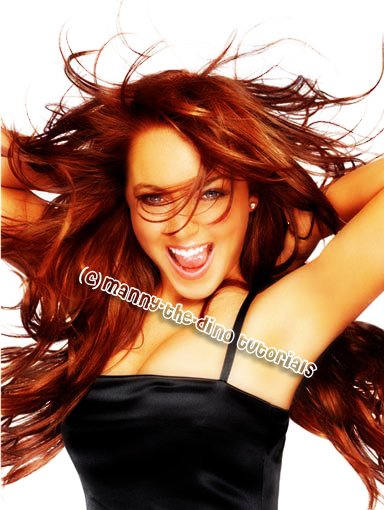 Tutorial
Click on thumbnailed images to enlarge
**NOTE**
I did this tutorial in Photoshop CS3 Extended which is why some of you

may

have problems. However, that

does't

mean this tutorial won't work in other versions of Photoshop. Just try it out.
Ever wanted a nice, glowing tan or make your hair look healthier? Well now you can by following my tutorial.!
:)
For this tutorial, I will use a photo of Lindsay Lohan (when she was pretty & not anorexic.
:0
)
Here's the before:
Here's the after:
Let's go!
001.Open up your photo in Photoshop.
002.Duplicate your background layer by pressing ctrl+j.
003.Add a gaussian blur by going Filter>Blur>Gaussian Blur.
004.When the pop-up comes up, set the radius to 5.
005.Your image should look like this now:
006.Now change the blending mode of your top layer to "overlay."
007.And tada! you have your final product!
If you got lost or have any questions, comment the tutotial & I'll get back to you as soon as I can. :D
Tutorial Comments
Showing latest 10 of 17 comments
Amazing, thanks!
when i try this it stays blurry ..
wowwwwwww :D
so easy!
WOAH...
This is really helpful.
Really.
It makes ANY picture looks beautiful, and it's really simple.
:D
O! yahhh.
ok this would be an awesome tutorial
but when i get to the part where i click on overlay
nothing happens
its stays at the blur
help?
Amazing Tutorial, simple yet Effective :D
I love it. [:
This is so, so good.
I love your tuts. :D
View all »
Tutorial Details
| | |
| --- | --- |
| Author | manny-the-dino |
| Submitted on | Oct 26, 2007 |
| Page views | 33,164 |
| Favorites | 198 |
| Comments | 17 |
| Reviewer | IVIike |
| Approved on | Oct 26, 2007 |