Add Fireworks To Your Photo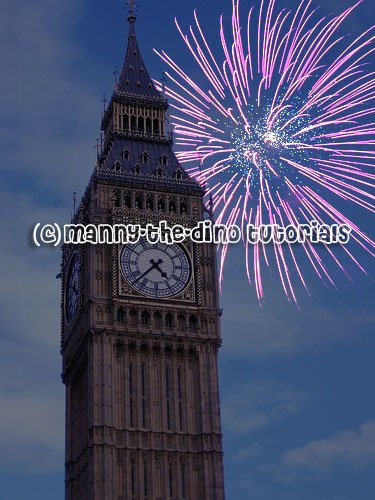 Tutorial
Click on thumbnailed images to enlarge
**NOTE**
I did this tutorial in Photoshop CS3 Extended which is why some of you

may

have problems. However, that

does't

mean this tutorial won't work in other versions of Photoshop. Just try it out.
Ever wanted to add some fireworks to your pictures? Well now you can. In this tutorial, I will teach you how to do that & to turn your picture taken during the day into night. I will be using these pictures: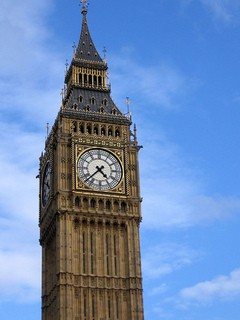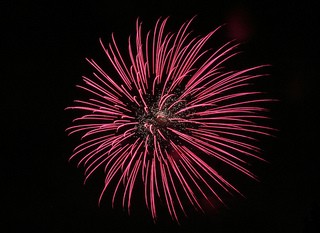 merging them, & turning them into this:
Let's begin!
001.Firstly, open up both of your images in Photoshop side-by-side.
002.Using the Move Tool (V), drag the photo of the fireworks into the photo of the building.
003.After doing that, position the photo of the fireworks where you'd like it to be in the final result.
004.With Layer 1 selected, change the blending mode to Color Dodge.
005.Your image should look like this now:
006.With the Background layer selected, open up the Curves options.
007.Use the following settings for RGB:
008.Use the following settings for Blue (this part depends on your image so play around with the settings until you are satisfied. Or you can just use my settings):
009.After doing that, add a layer mask to Layer 1.
010.Now use the Brush Tool (B) to erase out the parts of the fireworks that overlap the building.
011.Your image should look something like this right now:
012.For our final step, hold down Atl, click on Layer 1 & drag it in-between Layer 1 & Curves 1 to make the fireworks pop out more.
If you got lost or have any questions, comment the tutotial & I'll get back to you as soon as I can. :D
Tutorial Comments
Showing latest 10 of 10 comments
nat ily, ha.

just found this, rly like
pretty pimpin
How do open pictures side by side?
ty
Ahh So Pretty! I made a Wallpaper with this tutorial. Thanks!
very careful instructions and the results are AWESOME!!! thanks much!
wow thats awesome !
i'll try that out :D
Neato lol
This makes the picture look really pretty.
i like this one way better than ur other one
omg thats so cool! xD
Tutorial Tags